What is NFC?
Near-Field Communication, also known as NFC, is a type of RFID technology that operates on the 13.56 MHz frequency band. While the adaptation of NFC RFID can look very different from case to case, most NFC applications accomplish a similar goal due to the read range restraints of the frequency. For a list of 29 of the most common questions and answers about NFC technology, read our article "29 NFC Q&A's" using the button below.
Smart Phones Shortcuts & IoT
Public Transportation & Events
Device to Device Interaction
How does NFC Work?
NFC communicates via magnetic or inductive coupling and has an average read range of up to 3-4 inches depending on the type and size of the tag. NFC has gained popularity because it operates on a single frequency at 13.56 MHz which has been standardized as a fast and secure method of communication. NFC's standard is ISO 14443, which shouldn't be confused with HF RFID.
NFC RFID has four modes of communication - reader/writer, peer-to-peer, card emulation, and wireless charging. For example, when used for payment, an NFC-enabled device acts in card emulation mode, and when reading NFC tags, an NFC-enabled device acts in reader/writer mode.
What is an NFC Tag?
Most NFC tags are available as inlays or stickers but are also available in other form factors such as hard tags, cards, key fobs, large and small labels, and wristbands. NFC tags are generally low cost, but the cost ultimately depends on the form factor and the quantity of tags needed for the application.
What is an NFC Reader?
NFC Reader-writers and antennas can be purchased as solitary devices, or NFC-enabled smartphones or tablets can be used as the NFC hardware. NFC readers average between $50 - $75 and are typically purchased for public or shared use when a smart device would be too valuable if lost or stolen.
NFC vs. RFID: A Quick Look
Click on the graphic below to see the full size version.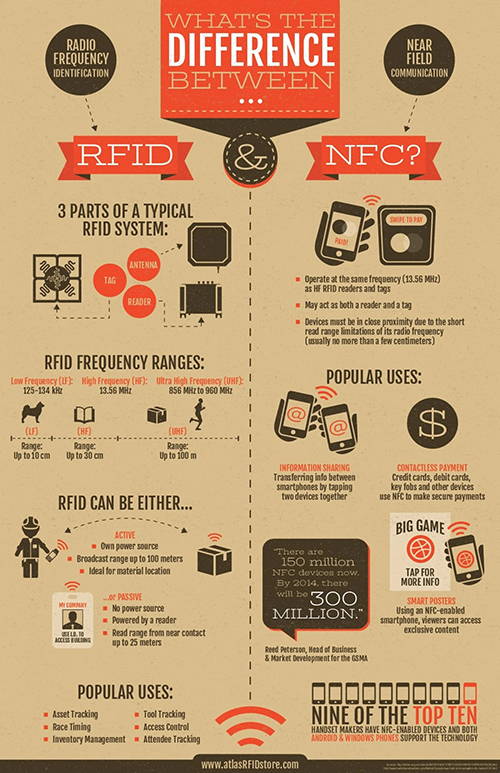 ---
---