9 Examples of RFID & NFC in Marketing
Posted by James Thrasher on Jul 15, 2013
RFID is an exciting technology that has greatly improved visibility in supply chains, tool tracking, and access control applications among others. Until recently however, RFID hasn't typically been included in many consumer facing applications. Companies either deemed the technology too expensive, or they assumed the consumer wasn't ready to learn another emerging technology. The tides are changing. As costs for RFID and NFC tags continue to decrease, and phone manufacturers incorporate NFC capabilities into their products, RFID is being embraced in advertising campaigns, products, and events across the world. In this list, you'll see some of the new and creative examples of RFID in marketing. Let these ideas spark your own RFID & NFC advertising campaigns!
1. NFC Enabled Lexus Advertisement Appears in Wired.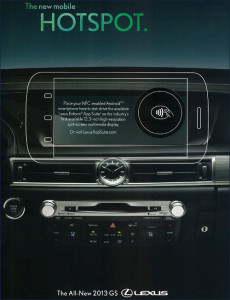 Wired magazine focuses on technology and science, so it's no surprise they teamed up with Lexus to include an NFC enabled ad in their April 2012 issue. The full page advertisement asked readers to place their NFC enabled phone near the page. Once the phone read the tag, their web browser opened a URL which played a video describing the new Lexus Enform App Suite, a key feature of the touchscreen dashboard.
2. Budweiser Let's You Friend With the Clink of a Glass.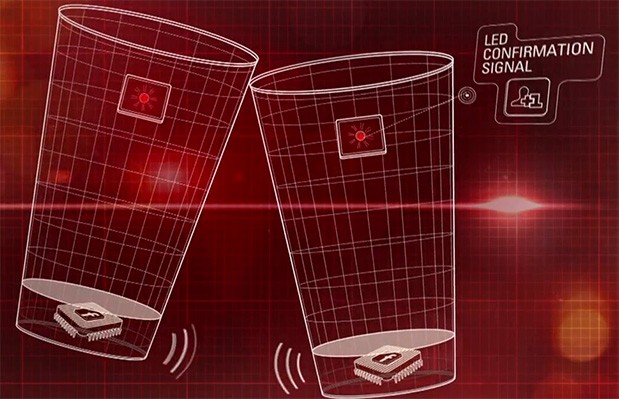 Along with their partners, Budweiser Brazil developed the Buddy Cup. It literally friends anyone you say "cheers" with as long you both have the RFID enabled cup. Whenever people clink their cups together, they automatically become friends on Facebook. To sync the cup with their Facebook account, patrons scan a QR code found on the bottom of the cup.
---

---
3. Open a Bottle, Get More Than You Asked For.
London creative agency Work Club developed the RFID enhanced SmartCap for Strongbow Gold Cider. The SmartCap is an interactive bottle cap that initiates an event whenever a new bottle of Strongbow Gold Cider is cracked open in the bar. RFID readers are installed throughout the bar, so when a the limited edition bottles are opened, the RFID chip on the inside of the cap triggers an event. The events range from Foursquare check-ins to confetti cannons.
4. Interactive Grocery Shopping With RFID & Hellmann's Mayonnaise.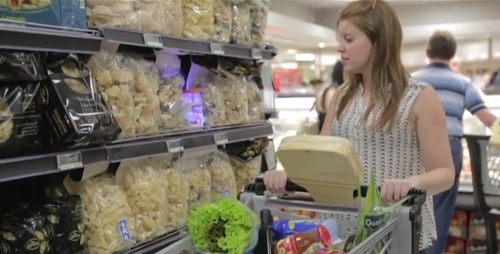 In a Sao Paulo grocery store, Hellman's Mayonnaise and digital agency Cubocc developed an interactive shopping experience. Shopping carts were equipped with an RFID tag and touchscreen display, and RFID readers were placed throughout the supermarket. As customers walked through the store, they would see videos and recipes that incorporated a nearby product and Hellmann's mayonnaise on the shopping cart's display.
5. Domino's Serves up an Outdoor NFC Ad Campaign.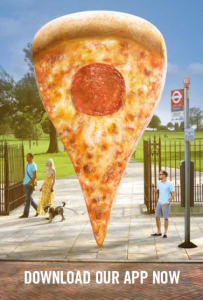 Domino's launched an outdoor advertising campaign augmented with NFC posters. When pedestrians placed their phone near the poster, they were able to directly download Domino's new mobile application.
6. Clothes, Music, and RFID.
At a music store in Singapore, they used RFID to connect music and fashion. Each article of clothing was affixed with an RFID label. When the customer took the piece of clothing to the dressing room, speakers began playing music that matched the clothing's style. Also, a text message was sent to the customer's phone with an offer for a free download of the song.
7. Shopping at Whole Foods is Better With Kinnect (and RFID).
Although it's only a prototype, Texas-based agency Chaotic Moon is developing an intelligent shopping cart for Whole Foods. The cart is equipped with a Microsoft Kinnect sensor, Windows 8 tablet, and an RFID reader. Whole Foods' vision is for customers to upload their shopping list to the cart. As shoppers add items to their cart, the products would be marked off their list. Also, if the shopper adds an item which may give them an allergic reaction, the cart alerts the shopper to possible food allergy issues.
8. Keurig Brews an RFID Enabled Coffee Pod.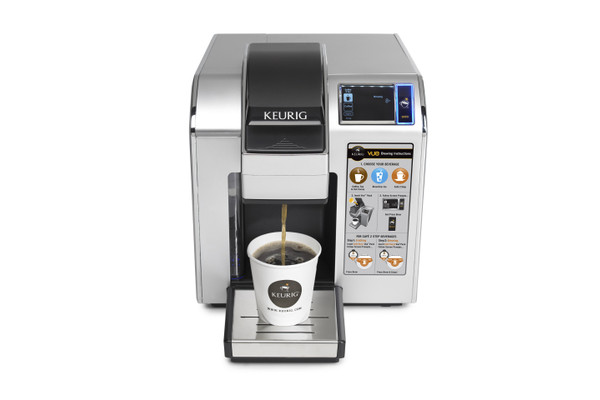 Keurig introduced RFID technology in their Vue commercial brewing system. The Vue system is a single cup brewing system which gives the user multiple settings for temperature, strength, and size. For customers that don't want to deal with the setting each time, Keurig has debuted the MyBrew line of coffee pods. These pods contain an RFID chip with the specific recipe for that cup of coffee.
9. Burberry Integrates Digital in Physical Stores.
In Burberry's flagship store in London, the upscale fashion retailer retrofitted the entire store for a full, digital experience. All items in the store will be tagged with RFID labels. When a shopper takes their items to certain areas like a dressing room, video specific to that item will begin playing giving the customer more information on the craftsmanship and design.
Conclusion
If you would like to learn more about all things RFID, check out our website, our YouTube channel, comment below, or contact us.
---
To read about more NFC applications, check out the links below!
Leave your ideas below of what you think should be added to the list. If it's something innovative, we'll add it to the article!