NFC & Chick-Fil-A
Posted by Lauren Moore on 17th Mar 2020
Introduction
When it comes to fast-food chains, Chick-Fil-A is best known for its customer service efforts. An example of this is how the chain handles drive-thru transactions during peak business hours. Employees walk the drive-thru line, taking orders and payments via tablets in order to keep the line moving. Now, at select locations, Chick-Fil-A is improving dine-in customer service by introducing an alternative way to use their mobile ordering app. Called dine-in mobile ordering, the new system allows customers to place orders using smartphones and Near-Field Communication (NFC) technology. By tapping smartphones to customized NFC tags on tables, Chick-Fil-A customers can order food directly to their table without the hassle of waiting in line.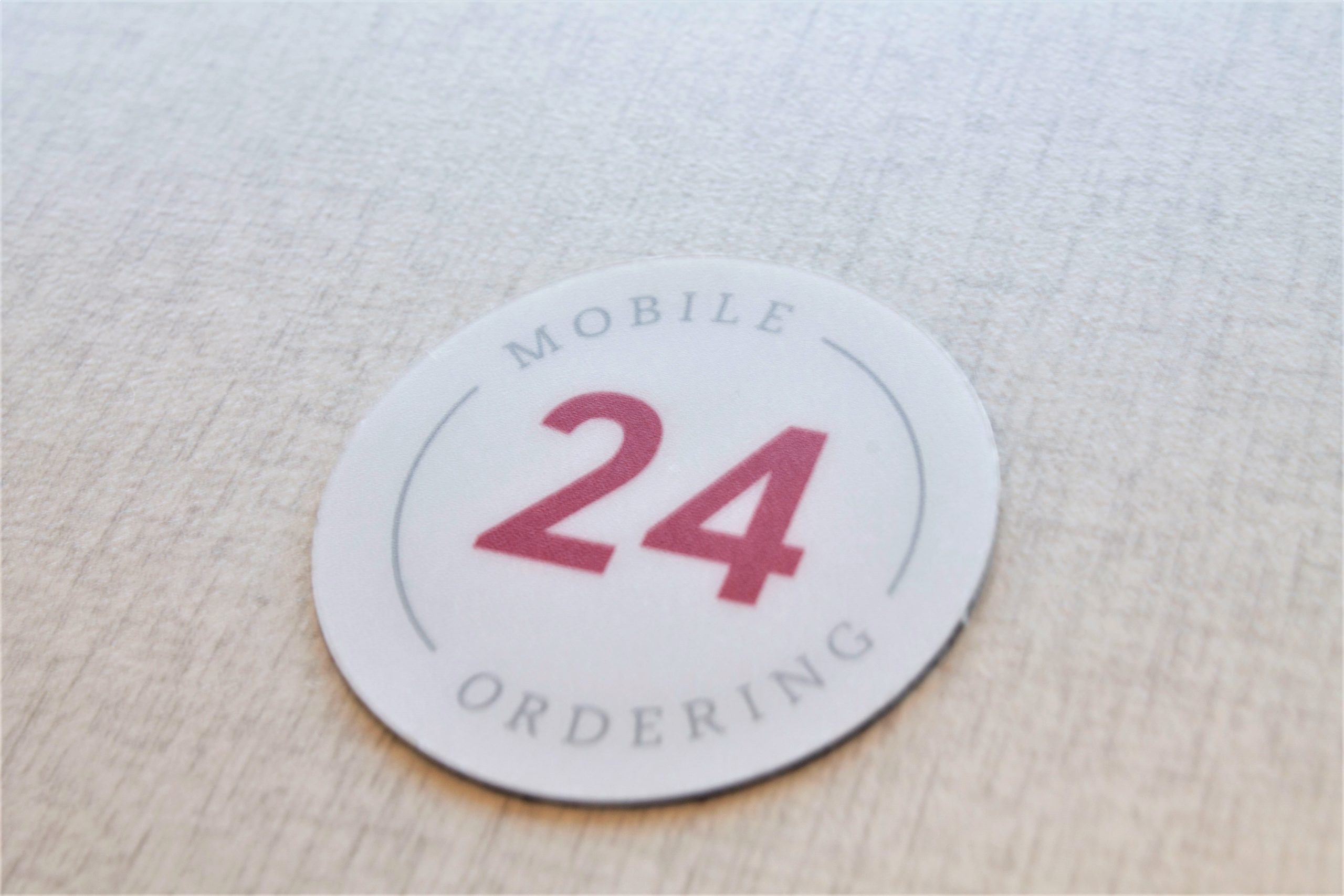 So how does this new ordering feature work? Below is a step-by-step guide on how to create a dine-in mobile order at Chick-Fil-A with NFC technology.
Creating a Dine-In Mobile Order
The process is simple, and the only tool needed is a smartphone with NFC capabilities. If you are unsure if your smartphone has NFC capabilities, check out our 29 NFC Q&As blog post to learn more.
First, customers should download the Chick-Fil-A One app onto their smartphone and create an account.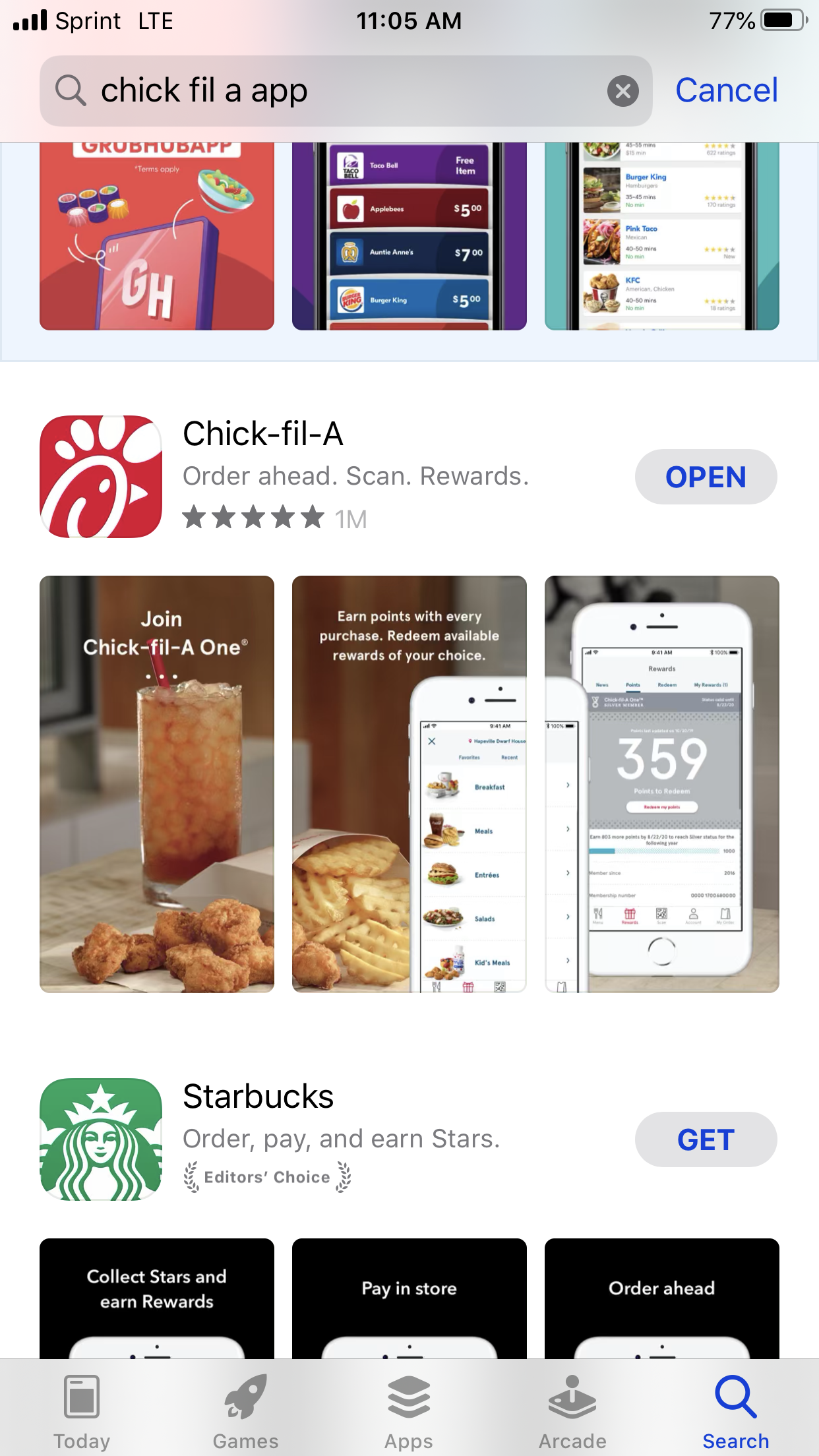 In the app, choose to place a dine-in order. Then, create an order by selecting desired menu items.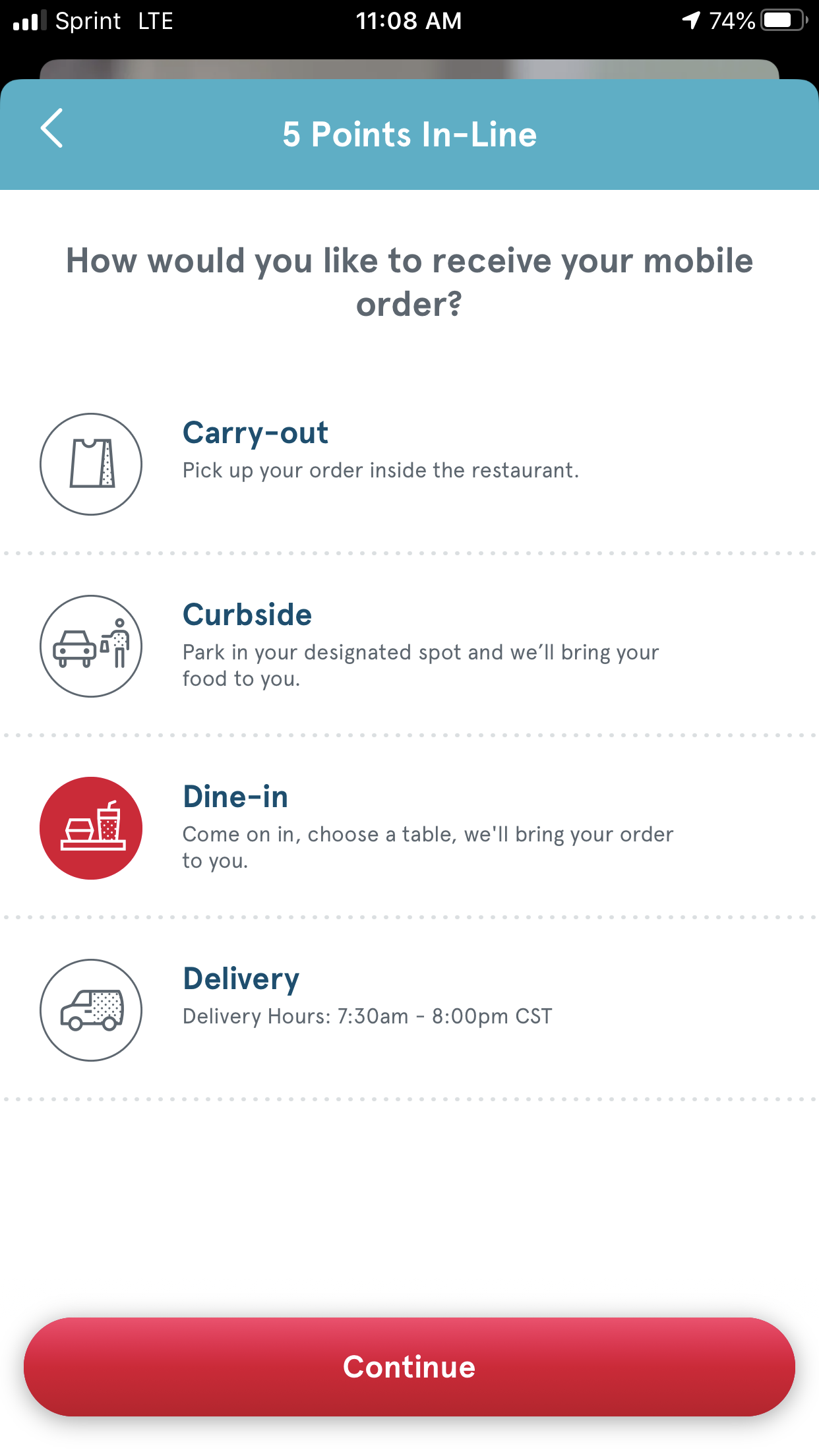 Once the order is complete, find an empty table in a participating Chick-Fil-A's dining room and tap the smartphone to the table's number. Tapping the table number sends the mobile order and associated table number to the Chick-Fil-A team, and employees will then begin preparing the order.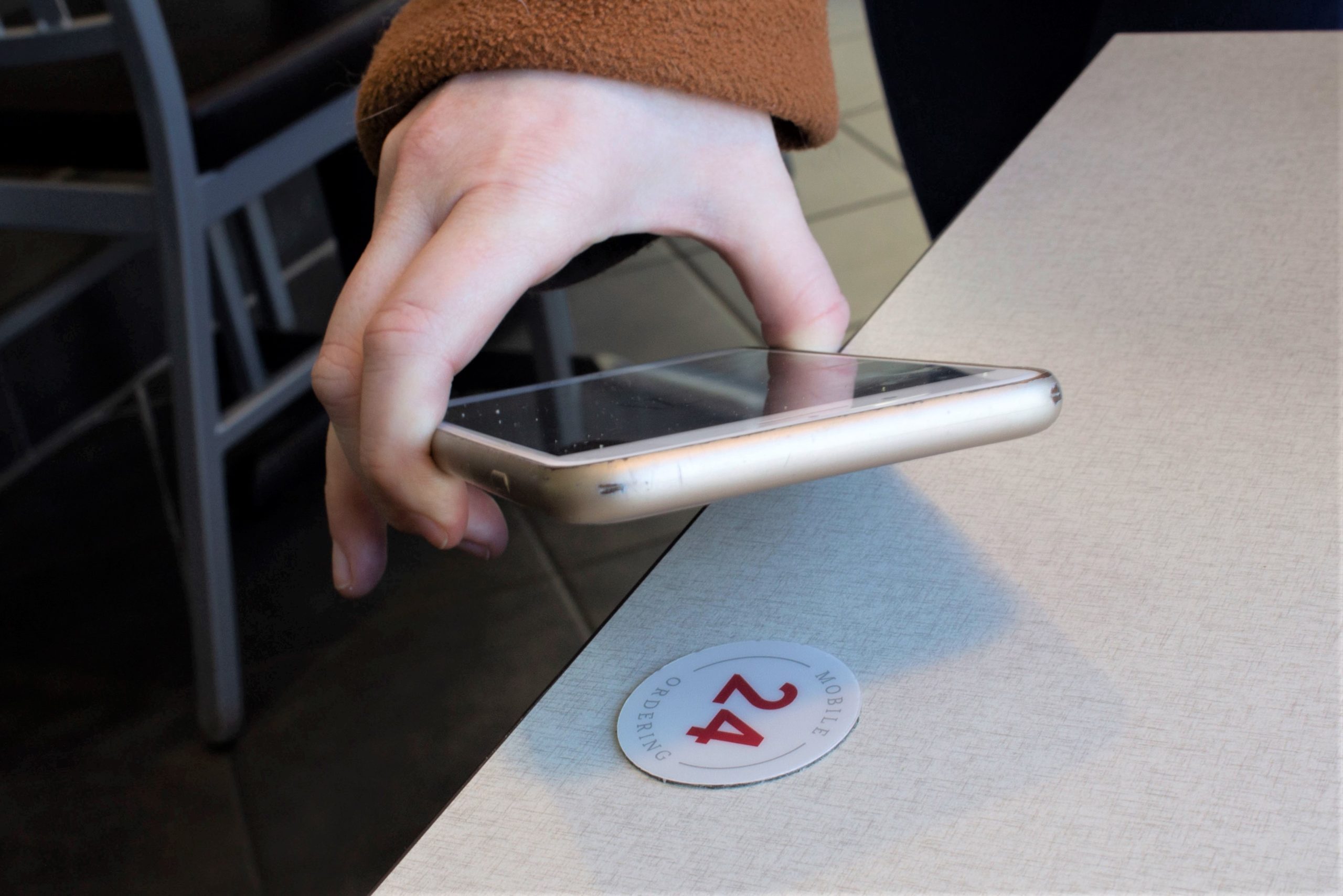 After the Chick-Fil-A team has completed the order, they will deliver it to the table number associated with the order.
NFC
A form of RFID, NFC technology operates via close-proximity (or near-field) communication. By touching a smartphone with NFC-capabilities to an NFC tag on a table, the smartphone energizes and activates the NFC tag. Once the tag is activated, it responds with the URL encoded to that specific table, which allows the smartphone to interact with the Chick-Fil-A mobile app or web page.
NFC's Chick-Fil-A Impact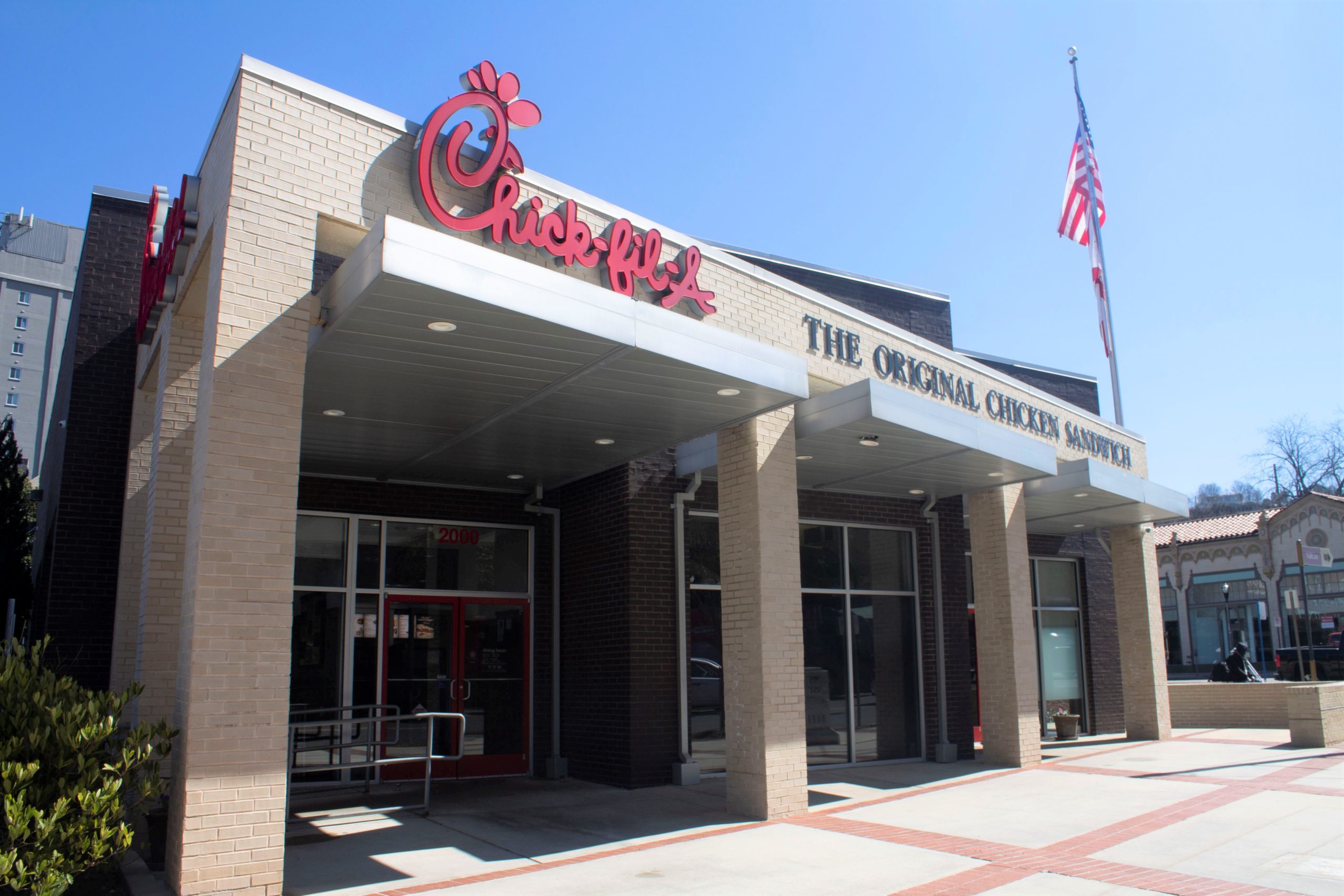 Due to NFC's accessibility and convenience, Chick-Fil-A's dine-in customers can have a more positive dining experience. The new system has also made an impact on Chick-Fil-A as a company and as a fast-food competitor. Below are examples of the significance of the NFC-based, dine-in mobile ordering system:
While the new ordering feature is beneficial to all Chick-Fil-A customers, it greatly impacts large groups, families, handicapped individuals, those conducting meetings, and anyone else with difficulties waiting in line.
Dine-in mobile ordering makes it easy to add-on to orders or to purchase additional items after a meal.
Customers who participate in dine-in mobile ordering can earn points in the Chick-Fil-A One app, and points can be redeemed for rewards. The amount of points earned also determines what level of benefit member customers can reach, with higher-ranking members receiving larger rewards.
Many fast-food chains provide alternate ordering methods, such as the Starbucks app's mobile order and pay features or Taco Bell's self-order kiosks. However, Chick-Fil-A is one of the first fast-food restaurants to incorporate NFC tags with mobile ordering.
Internal Chick-fil-A research found that "92-percent of customers surveyed that used dine-in mobile ordering found the feature appealing due to ease and convenience."
To check out these NFC tagged tables and experience the new addition to mobile ordering, use your Chick-Fil-A One app to find your nearest participating Chick-Fil-A.
Conclusion
To learn more about all things RFID, check out our website or our YouTube channel. If you have any questions, comment below or contact us.
---
If you want to learn more about RFID applications, check out the links below!