Kiosks with integrated RFID systems are used in a variety of different industries for a variety of different purposes. The main purpose of an RFID-enabled kiosk is to read and identify RFID tags, and access relevant, related information.
Integrating RFID technology into an existing kiosk can be accomplished using embedded reader modules and RFID antennas. For more information about embedded reader modules, checkout our guide, Getting Started with RFID Reader Modules.
To learn more about RFID kiosks from an RFID professional, contact us via the button below or send us an email.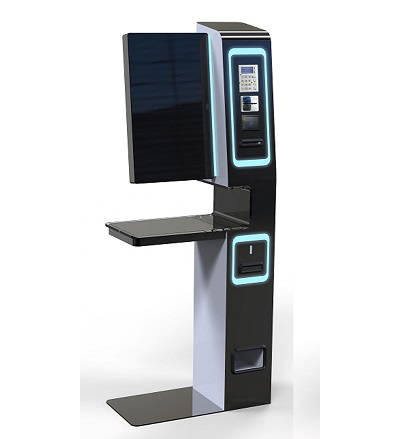 Library RFID Kiosks
Ideal for checking in/out books and media from Libraries, this RFID-enabled kiosk can create a self-service option that wasn't previously available. High Frequency (HF) RFID tags and readers are ideal for short-range applications like media check in/out stations.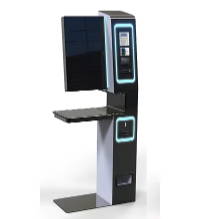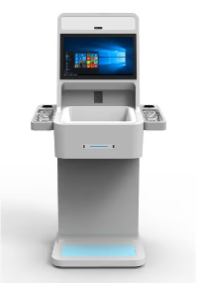 Retail RFID Kiosks
Because the Retail industry is quickly adopting UHF RFID for inventory management, RFID-enabled kiosks are now entering the retail market for self-checkout options. By simply placing the product in the reading area, customers can easily complete the checkout process without the hassle of a barcode scanner.
RFID Check-in Kiosks
Created for airports, RFID-enabled kiosks like this one are used for reading RFID passports for international travel. This kiosk has a built in High Frequency (HF) RFID reader that can easily read the HF tags located in passports.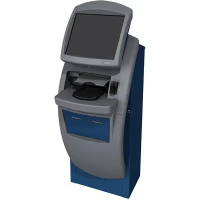 RFID Kiosks - Frequently Asked Questions
What type of companies/industries use RFID-Enabled Kiosks?
Car Washes - kiosks provide automatic entry for loyalty customers.
Airports - kiosks at airports read passports for international travel and check-in baggage.
Retail - kiosks provide self-checkout options for customers.
Museums - kiosks provide innovative experiences for customers, like the Hershey museum.
Libraries - kiosks provide self-checkout options for customers.
DVD Rental - kiosks allow customers to rent and return DVDs.
What's the difference between automated Kiosks & RFID Kiosks?
An automated kiosk is a machine that provides a service such as checking in, checking out, purchasing items, returning items, or providing a good customer experience by providing education or identifying users/customers. An RFID kiosk is simply an automated kiosk that uses RFID to interact with a tagged item. Automated kiosks can use a variety of different technologies to interact with items or users including barcodes, visual identification, Bluetooth, or RFID.
Which RFID frequency do RFID Kiosks use?
RFID Kiosks are usually HF, NFC, or UHF RFID technology depending on the application. For kiosks that cater to vehicles, like car wash kiosks - UHF RFID is usually the best option, while kiosks that cater to closer-range applications, like library book returns, HF or NFC is the best option. For a refresher on the different RFID frequency types, read our eBook A Guide to RFID Types and How They Are Used.
What is an innovative use of an RFID Kiosk?
IIn 2022, the EDPA along with Mike Oatridge created a unique and innovative experience to highlight the state of Alabama by use of RFID kiosks. Each RFID kiosk guided visitors through different career, education, and lifestyle paths while comparing real data on earnings, cost of living, and more. Read about RFID Kiosks at the World Games 2022.
What is the most commonly used RFID Kiosk?
One of the most commonly used RFID Kiosk is an APC kiosk, or Automated Passport Control kiosk. APC kiosks help U.S. Customs and Border Protection steamline the entry process for travelers coming into the United States. An APC kiosk reads each travelers passport via an HF/NFC chip, instead of travelers filling out that information manually via paperwork. APC kiosks are used to identifiy travelers, take photo documentation, learn about their travel reasons, and document and transmit this data digitally via secure encryption protocols.
What type of services can an RFID-Enabled Kiosk provide?
RFID-enabled kiosks can perform a few different actions after a specific RFID tag is read, depending on the kiosk. Some of the most common RFID-related actions are:
Opening a Customer Account

Checking In/Out

Purchasing

Playing a Clip/Movie

Opening a Gate or Door

Reading Customer Data
Learn More About RFID-Enabled Kiosks with These Articles