How RFID is Making Libraries Smarter
Posted by Lauren Moore on Jan 21, 2020
Introduction
The library industry uses RFID to accomplish modernized organization and improved visitor experiences. Manually managing library assets can be inaccurate and time-consuming but implementing RFID can automate some or all of the process. By tagging books and other returnable library assets, RFID enables efficient tracking and monitoring of these items. RFID is also used in innovative ways to provide additional functionality, allowing libraries to be as smart as the books they contain.
How is RFID Used in Libraries?
RFID is used to improve library functions. As RFID's popularity increased in the year 2000, countries around the world announced their intent to integrate RFID technology into their library systems. Today, RFID is commonly used in libraries worldwide.
RFID Library systems can be set up using different subsets of the RFID spectrum, most commonly using HF (High Frequency), NFC (Near Field Communication), and UHF (Ultra-High Frequency). Below are the key differences in these types of RFID technology:
HF- HF can read tags up to three feet away and is commonly used with library books, ticketing, and payments. HF RFID systems can also read multiple tags at once. Additionally, this frequency range performs well when tracking items involving metal and water.
NFC- A subset of HF, NFC transmits and receives data at only a few centimeters, making it ideal for close-range reading. Because smartphones are often used as the reader in an NFC system, the technology is convenient and affordable. NFC is ideal for RFID beginners and small-scale systems.
If you'd like to learn more about NFC, check out the 29 NFC Q&As blog post.
UHF- UHF, also known as RAIN RFID, has a read range between ten and thirty feet. Due to its longer read range, this frequency has many typical applications in industries like retail, healthcare, transportation, and manufacturing. However, due to UHF's shorter wavelengths, this frequency is more susceptible to interference from metal and water.
By using RFID to create smart systems, libraries can make locating and tracking assets hassle-free.
1. Basic RFID Library System – Handley Regional Libraries
The Handley Regional Library System in Virginia uses RFID in this way. Rather than scanning each item as it is checked out individually, patrons can place a stack of books on an RFID-enabled pallet and check them all out in a single scan. RFID is also being used in these libraries to help staff sort returned books. As books pass through the return chute, they are identified by what genre or section they belong in. These books are then placed on a conveyor belt and dropped into bins with similar titles.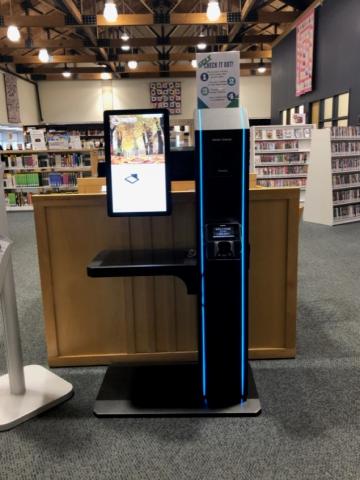 Photo from Handley Regional Library System website.
While most libraries use RFID in similar ways, some have uniquely integrated the technology. Here's how libraries are using RFID in creative and innovative ways:
2. RFID Smart Shelves – Quebec
Public libraries in Quebec are using RFID-enabled shelves to automate book returns and increase circulation. This installation is an effort to lessen the time returned books spend out of circulation before becoming available to check out again. Now, returned books can simply be placed on the nearest smart shelf. These books are immediately logged in the library's computer system and are available for check out. When a shelf becomes full, Librarians move the returned books back to their correct spots.
As books are placed on the shelves, the unique information of each book's HF RFID tag is read and documented in the library's computer system. Each shelf is equipped with multiple antennas, a reader, and an unpluggable cable. This cable connects the shelves to an information column, which includes a PC, a reader, and the application software to communicate with the library-management system.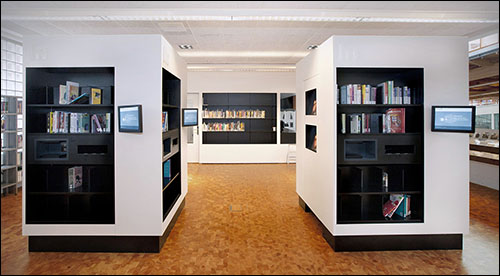 Photo from RFID Journal.
3. Robot for Library Inventory Management – Singapore
Researchers in Singapore have created a RFID-enabled robot called AuRoSS, which stand for Autonomous Robotic Shelf Scanning System. The invention is designed to take inventory and track the exact location of books in libraries. AuRoSS does not require staff to operate and is intended for use while the library is closed. Once activated, the robot can self-navigate through shelves and scan for missing and out-of-place books. Trials in Singapore libraries revealed AuRoSS to be 99% accurate in its readings.
By using laser mapping to navigate and attaching HF RFID tags to each book, the robotic device can follow along curved or straight shelf edges and detect individual items. With an antenna located on the robot's arm, the device can "reach" for items and get a close, accurate read of each shelf's contents.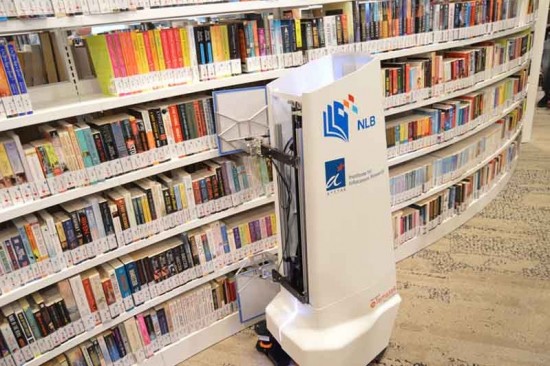 Photo from Library Journal.
4. Self-Service Library Stations – Hong Kong
Hong Kong is implementing self-service library stations in order to counteract the lack of public libraries in the region. These 24-hour library stations work like a vending machine and allow users to check out and return titles, pick up reserved materials, and pay library fees. These stations also have 300 slots to store books as they are checked in and out of the kiosk.
Library stations can be set up anywhere with a power outlet and an internet connection with a fixed IP address. Patrons can check out and return UHF RFID tagged books at the kiosk. The status of each book is then transmitted online to Hong Kong's public library database, giving librarians knowledge of each item and when to restock stations.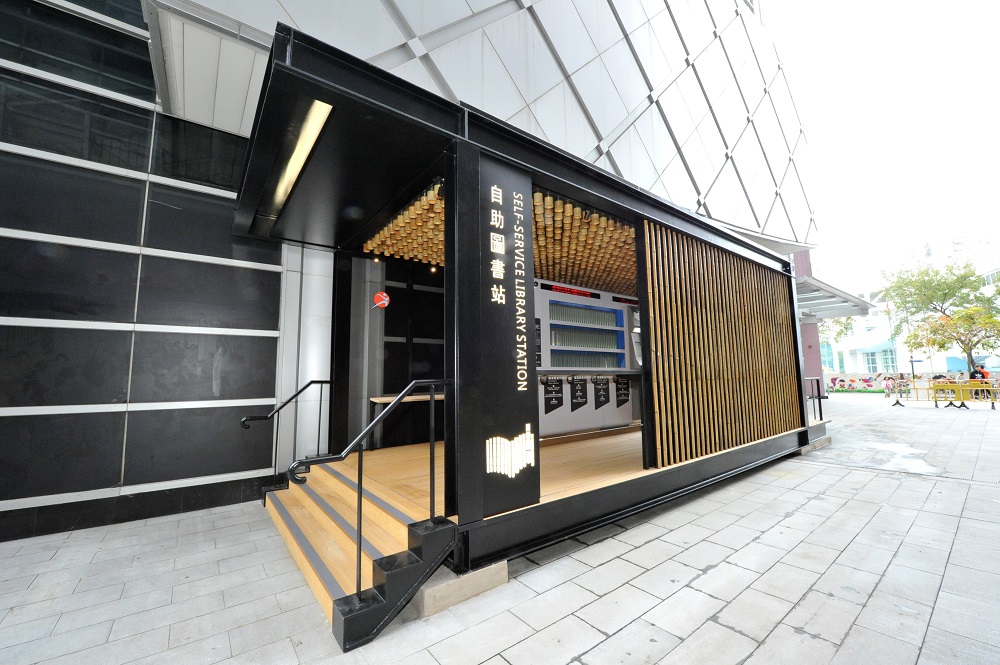 Photo from Hong Kong Public Libraries website.
What you Need to Know When Considering a Smart Library
Below are tips when thinking about implementing your own RFID library system:
The first step in creating any RFID application is determining the problem you aim to solve. Are returned books not quickly available for check out? Are books often checked in but misplaced? Determine what your goals are in order to select the best type of system for your library.
Read more common questions and answers before purchasing in our Deploying an RFID System: 20 Questions & Answers guide.
Determine if the best frequency for your system is HF, NFC, or UHF. More "out of the box" solutions exist for HF and NFC library systems, but they have shorter read ranges. UHF can provide a longer read range and additional functionalities, but the frequency offers less "out of the box" solutions. A software engineer can create necessary middleware between the RFID hardware and the pre-existing LMS system, no matter the chosen frequency.
Tag the inside of each book with an RFID tag. Try to use a paper faced tag with or without human readable information or a barcode. If a clear inlay must be used, try to obscure the tag from view. Concealing tags is suggested so that patrons do not remove the RFID tags from books. While each tag costs generally a few cents, the price of replacement tags can quickly accumulate if curious patrons consistently remove tags from books, and untagged books can't be tracked by the system.
Like most RFID Applications, remember to start out small with one or two read zones in a proof of concept, and then gradually expand. This way, problems can be caught early on and avoided when the system is fully implemented. For example, start out with one check in/check out station and work out any initial problems before expanding to multiple stations.
Conclusion
To learn more about all things RFID, check out our website, our YouTube channel, our resources page, or contact us.
---
If you'd like to learn more about other real-world RFID applications, check out the links below!