Tracking attendees at conferences, trade shows, and other business events using RFID can be a great way to obtain valuable data that might otherwise not be available. This data can be provided to exhibitors enabling them to make strategic decisions about their booth, sales strategy, and in-booth personnel in order to get more bang for their buck at these events.
When companies sign up and spend thousands of dollars to invest their time and resources into exhibiting at a trade show, they expect results. The company that puts on and manages the trade show is responsible for marketing the conference and ensuring that attendance is high, as well as providing meaningful data once the event has begun. Without RFID, that data would have to be provided by manual counting or manually scanning attendees barcodes are various locations. The labor cost to manually count and scan attendees can add up over the days, and the results are not guaranteed to be accurate.
Instead of manually counting attendees and trying to reconcile the data at the end of each day to provide exhibitors, RFID can automate some or all of the process. Event provided lanyards and ID badge holders carry the RFID tags/cards so attendees can automatically be read by RFID systems located around the conference facility.
Attendee Tracking RFID Tag Examples
Custom RFID Cards & Badges
What Type of Data Does an Attendee Tracking Application Provide?
When an attendee with an RFID tagged badge passes an RFID system, the RFID reader can collect information such as:
Attendee ID

Location (Based on System's Set Location)

Timestamp

How long the tagged attendee is read

Direction of travel (if setup with directionality functionality)
While that information does not seem to be the most informative data for exhibitors, that is just the raw information collected by the RFID system. Once that information is collected, reports can be created via software that can provide exhibitors with information such as:
High traffic areas & times

Attendees that attended specific seminars, speakers, luncheons, or CEU classes

Booth attendance

Traffic patterns and flow

Length of time attendees were in a booth

Attendee analytics
What Other Features Can An Attendee Tracking System Provide?
In addition to traffic analytics and information for exhibitors, an RFID tag assigned to each attendee can provide a few other functionalities.
Scanned for lead retrieval upon entering an exhibitor booth

Access Control to specific areas like VIP rooms, special seminars, or luncheons

Personalized experiences

Payment method for on-site services, upgrades, food services, or seminar access

Granting CEU certifications upon class attendance
Learn Even More About Attendee Tracking
Global Registration Solutions walks us through their Attendee Tracking process and talks about why they chose UHF RFID.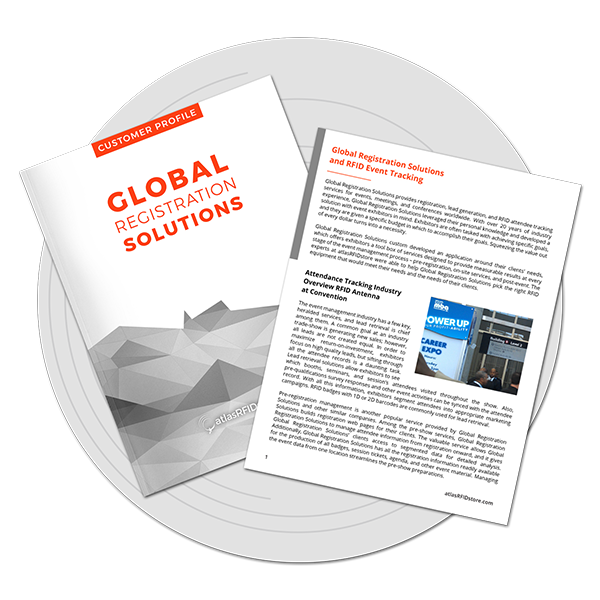 Learn More about Attendee Tracking with These Articles