The Top 5 Types of UHF RFID Antennas
Posted by Suzanne Smiley on 18th Mar 2019
Introduction
[Audio Transcription Below]
Hi, my name is Steven Wood with atlasRFIDstore.com and I am going to talk about the top five types of RFID antennas and when they are used. These antennas in front of me are some of our most popular antennas of each type.
Because read range varies greatly due to system setup, reader power, RFID tag type, gain, and environment – today we will talk about read range generally, using the terms of short range and long range.
Short range is defined as an antenna that gets between a few centimeters up to 1 meter which is just shy of 3 feet. And Long range is going to be defined as an antenna that gets between 3 meters and 9 meters, or between 10 and 30 feet.
Impinj Mini-Guardrail Antenna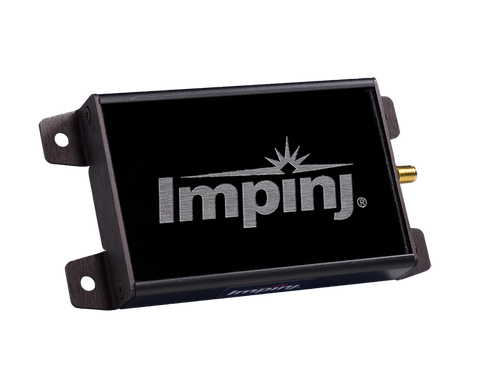 First we will start with a small antenna. This is the Impinj Mini-Guardrail Antenna. The Mini-Guardrail is a near-field, short range antenna meaning that it only reads tags in the near-field which is typically a max read distance of only a few centimeters, This antenna is very small and lightweight.
Near-Field antennas are perfect for item-level applications that need a very small and defined area of coverage especially when the concern is to only read one specific tag in a tag dense environment. Some example applications are access control, document management, and ticketing.
Harting Locfield Antenna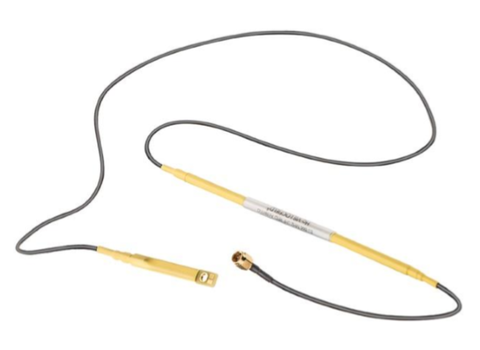 The next antenna we have is a Harting Locfield Antenna. This is a very unique type of antenna, known as a traveling wave antenna. It's called this because the RF field travels along the length of the coaxial cable toward the two ends. The Harting Locfield antenna is a short range, high gain antenna that are very convenient because they are a coaxial cable and antenna in one form factor. This means they can be directly connected to an RFID reader.
The Harting Locfield Antenna has a diameter of only a few millimeters, but because of their unique shape, they can read tags in most orientations which is similar to circularly polarized antennas. Because it can be molded into almost any shape, this antenna is designed for applications that need a unique read zone configuration.
Harting's Locfield antenna series are easy to integrate into pre-existing cabinets or enclosures, making them ideal for tool cribs, smart shelving, or server racks for inventory control applications. If you are mounting this antenna in or near a metal surface, be sure to use some spacing, and don't allow the antenna to make contact with metal, as that would decrease its signal.
MTI-MT-262006 Antenna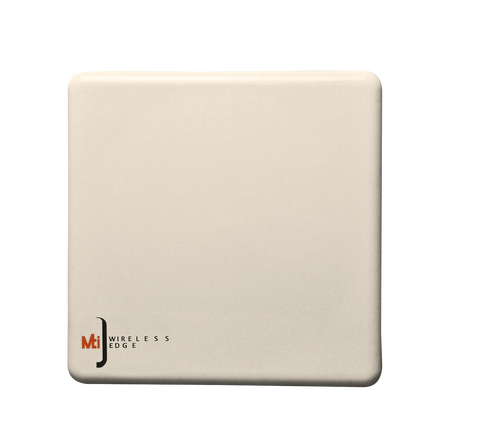 In the middle we have a standard panel antenna which is the most common type of RFID antenna. This specific one is the MTI MT-262006 Panel Antenna, a long-range UHF RFID antenna with a high gain of 9 dBic. This antenna is pretty rugged and has a high IP rating of 67 meaning that it can be used indoors or outdoors. It's a circularly polarized antenna, so your tag can be any orientation and still be read.
Panel antennas are perfect for applications that need a fixed zone of coverage. Panel antennas can be used together to create a larger area of coverage. These antennas are currently used in outdoor applications like access control on parking gates, or race timing mounted to race timing trusses.
Keonn Advantenna p12 Antenna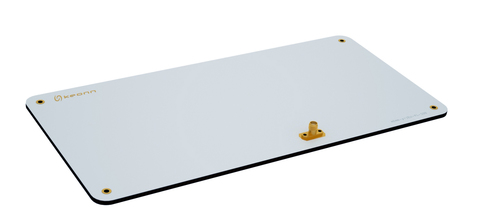 Next we have a very compact and low-profile shelf antenna. This is the Keonn Advantenna p12 which has a narrow beam width, perfect for smart shelf applications. It is 11 inches by 5 and a half inches, by 0.3 inches. It weighs about half a pound and is circularly polarized so that it is not sensitive to tag orientation.
Because this antenna is so thin, and built for smart shelving applications - it can be embedded into existing products or be used alone for inventory management of retail items like jewelry, shoes, or clothing.
Times-7 A6590C Antenna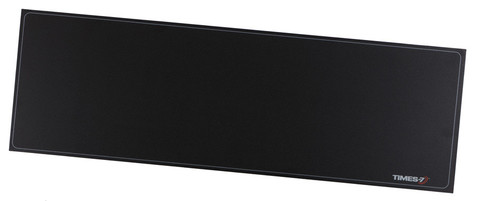 Finally, we have this large ground antenna. This is the Times-7 A6590C that measures 36 inches by 12 inches. It's the largest one that we have on the table today, but it is pretty versatile for its form factor because of its circularly polarized, and it has a high gain of 9 dBic. It is a long-range, indoor antenna perfect for applications moving products and attendance tracking.
This A6590 is typically covered with a mat or carpeting used in conference attendance tracking, race timing, or other applications that require an antenna on the ground, in a door way, or other read point. This antenna has an IP rating of 65, so, be sure it isn't placed in any sort of standing water.
Conclusion
Thanks for tuning into this video talking about The Top 5 Most Popular types of UHF RFID Antennas. For more information on RFID and how it is being used all over the world, checkout our blog, our RFID resources page, and subscribe to our YouTube channel. If you have any questions at all, send us an email or give us a call.
To read more about RFID antennas, check out the links below!