What You Need to Know About Smart Shelving Units
Posted by Suzanne Smiley on 6th Jul 2018
Introduction
Smart shelving units such as cabinets, refrigerators, shelves, and displays are outfitted with RFID hardware. Items are affixed with RFID tags and kept in the unit to be inventoried and monitored. Smart shelving units keep real-time inventory counts in order to solve common problems experienced with inventory management.
Why Use Smart Shelving Units?
Smart shelving units are used to dramatically improve inventory management as a whole, but specifically to eliminate several key problems. Below are key issues that can be solved by implementing smart shelving units, depending on configuration.
Labor time spent on manual inventory counts
Human error involved in manual inventory counts
Theft of items
Lost items
Selling expired or recalled items
Who Uses Smart Shelving Units?
Companies that have either high-value, critical, or large quantities of inventory/assets use smart shelving units to save time and money that is wasted on commonly experienced inventory problems. These problems occur across multiple industries, but Healthcare and Construction are two the of the industries frequently using smart shelves and cabinets because of the high cost of medicine, medical instruments, and tools.
What Types of Items are in Smart Shelving Units?
Inventory tracked inside these units ranges from single-use items like gloves, tape, or nails to higher-priced, reusable items like tools, instruments, or machinery. Within the Healthcare industry, items such as high-value medicines and equipment are tracked.
How do Smart Shelving Units Work?
In general, smart shelving units work by lining shelves from either the top, bottom, or side with RFID antennas that connect to the cabinet's RFID reader(s). Each item placed in the cabinet is tagged with an RFID tag, and that item's serial number or identification number is associated with the tag's EPC number in a database.
Using software, the readers and antennas can be set to either continuously read what is on the shelves, or can be read at pre-set intervals or events, such as when the unit's door is closed. The data is sent from the readers either to a local PC, or a cloud or networked database. The software sorts the data into valuable information that can show managers hourly, daily, or weekly inventory counts.
Access control systems can be added to shelving units and cabinets to allow or deny access to certain employees. Restricting access can help to decrease stolen items, and, with additional software, an access control system can provide managers with data like which employee opened the cabinet, what time it was opened, and which items were taken. This enables item-level visibility and a chain of custody for all items taken from and put in a smart shelving unit.
How is a Smart Shelving Unit Set Up?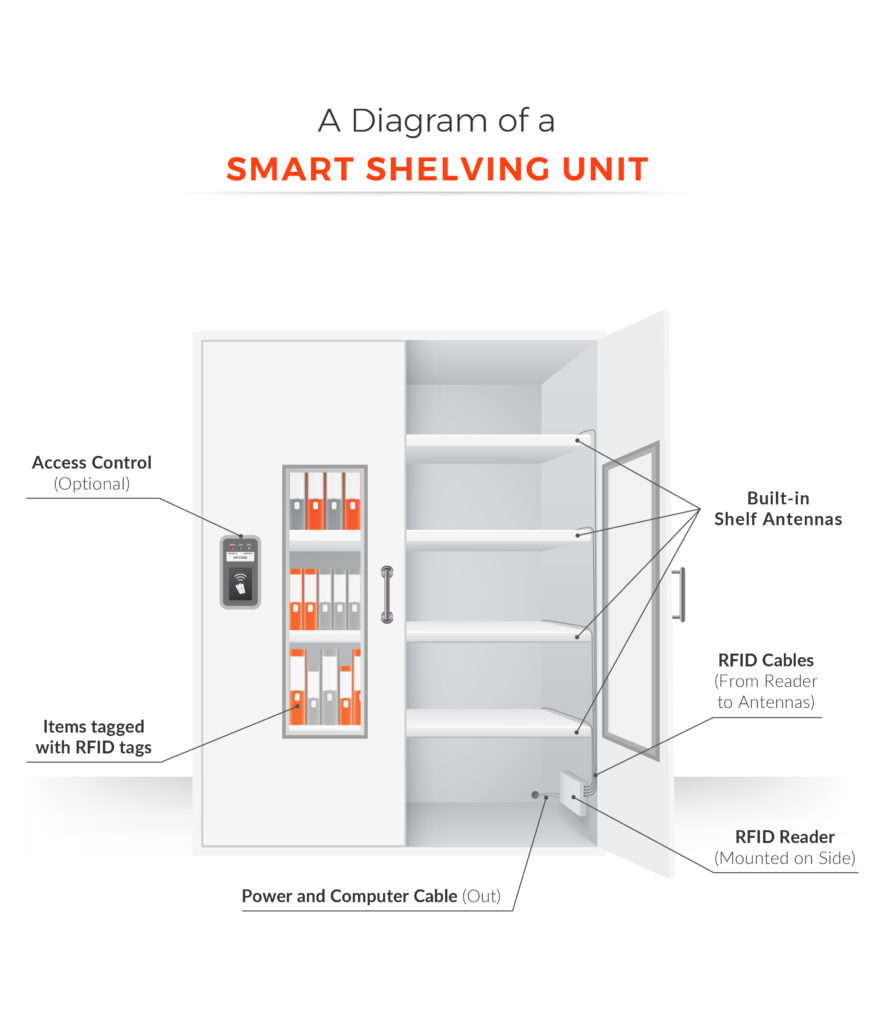 Smart Shelving Unit: Interior
The inside of a smart shelving unit contains a fully-functional RFID system including multiple antennas, a reader, and cables. The amount of RFID equipment used depends on the size of the unit, and size and quantity of shelves. Another variable to consider is how the unit is assembled (more information below).
The setup will be dependent on the type of shelving unit and the space available for the RFID equipment. The setup will also vary depending on if the shelving system is a custom unit built to specification, or a DIY project constructed from a pre-existing shelving unit with the addition of RFID hardware (more information below)
Smart Shelving Units: Exterior
The exterior of the unit depends on two different variables.
Type of Unit
The type of shelving unit can vary from a display shelf, open shelf, shelving cabinet, refrigerator unit, etc. The type of shelving unit depends on the application, as well as the level of security needed for the items.
How the Unit was Built
There are a few different ways to purchase/build a smart shelving unit. The three most common are: a DIY smart shelving unit built around an application, a custom unit constructed from a pre-existing shelving unit integrated with a purchased RFID solution, and a complete off-the-shelf unit sold pre-packaged with RFID.
What are the Different Types of Smart Shelving Units?
A common way to break down types of smart shelving units is whether the unit is purchased off-the-shelf completely ready to go, customized with RFID hardware from an existing shelving unit, or all units (shelves and RFID hardware) put together as Do-It-Yourself (DIY). Below is an example of each.
DIY
For some applications, instead of paying the high price point associated with an off-the-shelf or custom product, it makes sense to integrate specific RFID hardware into a custom or even generic shelving unit. DIY smart shelving units do not just save money; they can also be customized and reconfigured depending on the tagged items and resulting read rates. One of the biggest advantages is the freedom to choose specific RFID hardware brands and create a system suited exactly for your needs.
Customizable
Some companies have a customizable RFID system configured for smart shelving units which takes the guess work out of what RFID hardware to use and how to setup these pieces. These systems can be used with most pre-existing shelving systems to provide real-time inventory.
One example of a pre-packaged RFID hardware system is Keonn's AdvanShelf system which can be used both on metal and non-metallic shelving systems. Because the AdvanShelf is a complete solution, all RFID components such as readers, antennas, cables, multiplexers, power supplies, and software are included. The only item not included is the shelving unit itself. An advantage to customizable systems is lower-cost (vs. off-the-shelf), and that you can choose the shelving unit unique to your items and application. Another advantage is that testing can be an opportunity to build and continually modify your own smart shelving unit until it is perfect.
Off-the-shelf
These smart shelves are created and sold as complete units (including software) that require no further modification from the user. Similar to options available from CribMaster, like the AccuDrawer and AccuCab, they are ideal for general inventory tracking applications. These inventory systems vary from tool inventory drawers, inventory vending machines, to larger inventory areas for equipment and machinery and work well in all types of environments. The main advantages of an off-the-shelf system are the high-level of technical support and ease of use, but they are also typically the most expensive option. These units can be purchased and set up relatively quickly to start working with your items.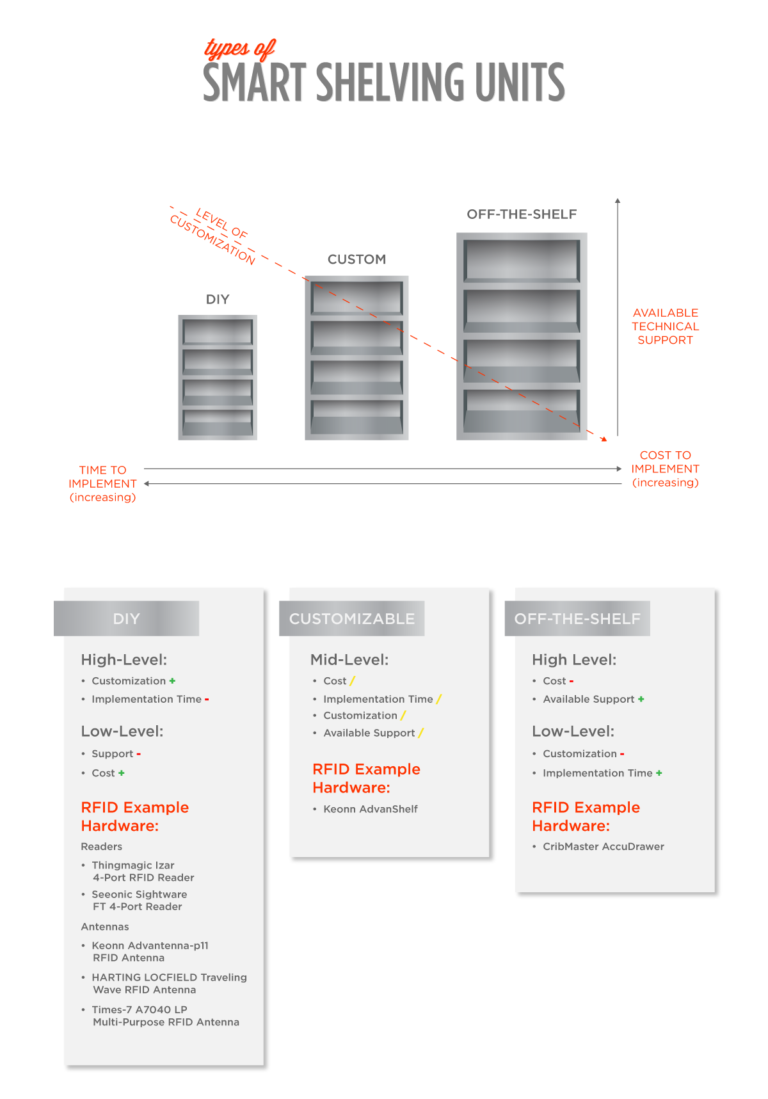 Conclusion
For more information on smart shelving units, check out our website, our YouTube channel, comment below, or contact us!
For an additional resource on smart shelving units - see Jadak's Whitepaper "Why Hospitals are Rapidly Adopting RFID-Enabled Medical Cabinets"
---
To learn more about various RFID applications, check out the links below!