Dual Inlay RFID Tags vs. Dual Frequency IC RFID Tags
Posted by Suzanne Smiley on Aug 16, 2022
Dual Frequency RFID tags are RFID tags that can communicate on two different frequencies; for instance, on the High Frequency (HF) band, and on the Ultra High Frequency (UHF) band. There are two ways to achieve this functionality -
1. One RFID tag which has two IC's, or integrated chips, with two separate antennas, or
2. One RFID tag which has one specialized IC with two separate antennas.
The first option is considered a dual frequency tag with two ICs, or chips, and the second option is considered a specialized dual frequency IC within a tag. Dual Frequency IC's haven't been around very long - only since 2015; however, dual frequency RFID tags are not a new concept.
Dual Inlay RFID Tags
Before Dual Frequency IC's were available, RFID tag manufacturers created dual frequency RFID tags by placing two separate IC's on or within an RFID tag with a larger form factor.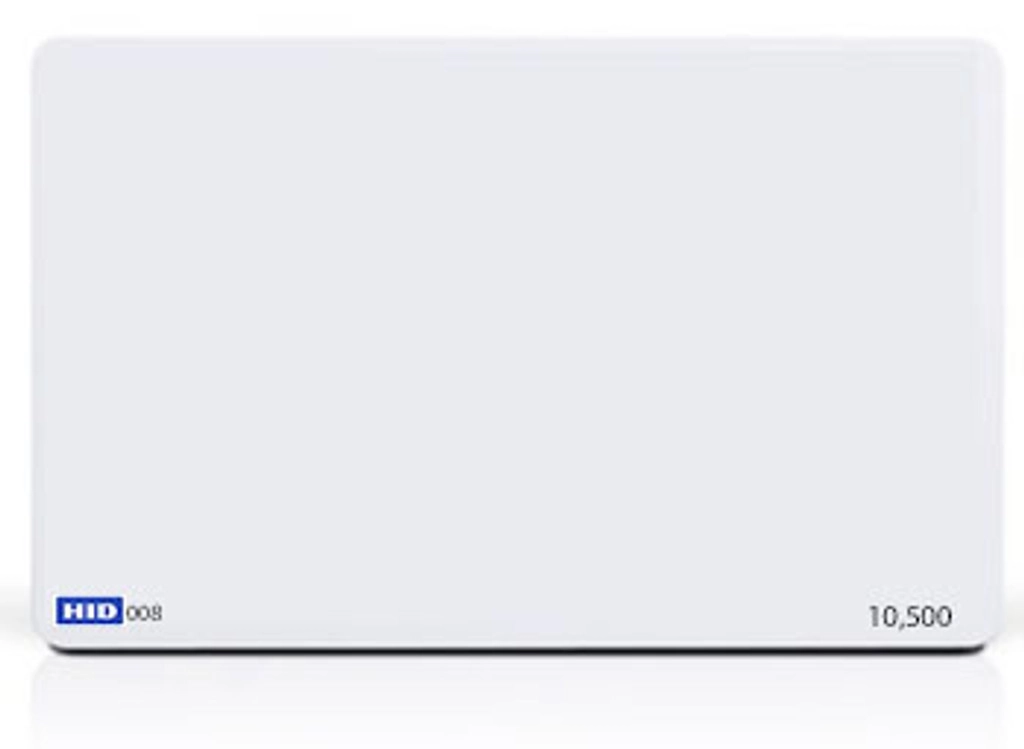 The popular smart card above, created by HID Global, has a High Frequency IC, the NXP Mifare DESFire EV 2 chip, as well as a UHF IC, NXP's UCODE DNA. Smartcards are one of the most popular form factors for dual inlay tags because they have the additional space to hold both ICs and antenna inlays. Other, less popular dual inlay cards are available with different frequency combination options - such as LF RFID and HF RFID, LF RFID and UHF RFID, and HF RFID and UHF RFID. Below is a different image of dual inlay RFID smart cards, with the two different antennas and IC's (black dots) clearly visible in each one.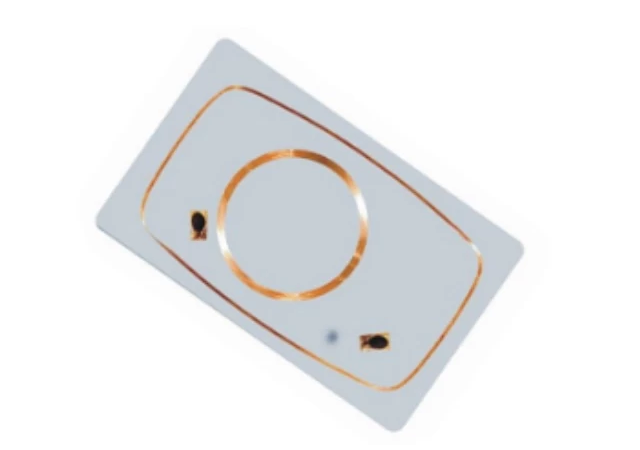 Dual Frequency IC's
The difference between a Dual Frequency IC and a Dual Inlay RFID tag is that, in a Dual Frequency IC, there are two antennas, connected to one single IC. Below is an example of a popular dual frequency IC's. In this example the two different antennas can be seen connecting to the single IC in the center (black dot).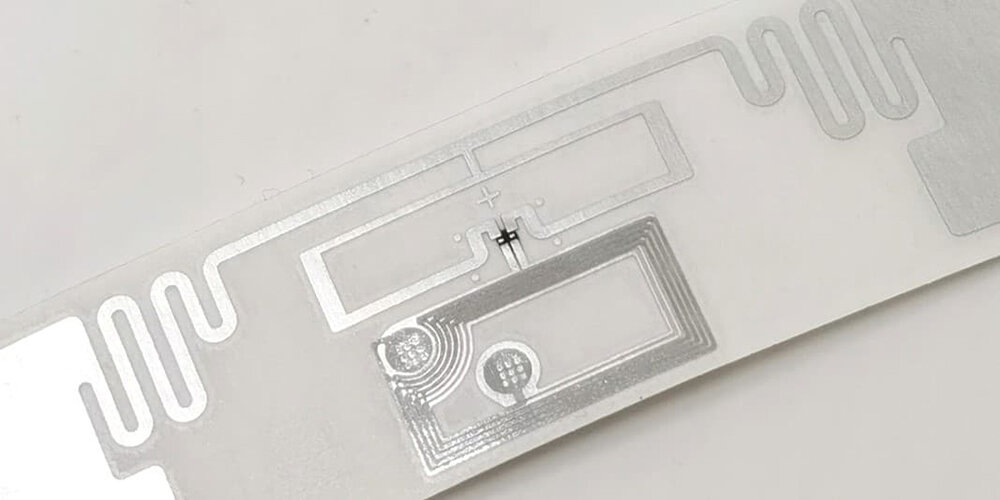 Even though dual frequency IC's are called "dual frequency", they typically support 3 different communication protocols: UHF, HF, and NFC. They are still called "dual frequency" because 2 of the communication protocols, HF and NFC, operate on the same 13.56 MHz frequency band.
In order for a single RFID chip to be classified and used on the UHF and HF/NFC frequency bands, it must comply with all the individual regulations for each communication protocol. For example, EM Microelectronic's dual frequency EM4425 RFID chip supports the following standards/protocols:
ISO/IEC 15693 (HF Standard)
ISO/IEC 18000-3 Mode 1 (HF Standard)
NFC Forum Type 5 Tag (NFC Standard)
ISO/IEC 18000-63 (UHF Standard)
EPC Gen2v2 (UHF Standard)
ISO/IEC 29167-10 (Optional Encryption Standard)
Each dual frequency IC has different memory options, but most include those required by the standard/communication protocol to which they comply. For example the EM4425 contains:
UID Memory - required for the HF interface
TID Memory - required for the UHF interface
HF User Memory - required for the HF interface
UHF User Memory - required for the UHF interface
Frequently Asked Questions About Dual Frequency IC's
Why is a Dual Frequency IC Tag Better Than a Dual Inlay Tag?
The single IC contains all the tag memory, which is all accessible through any frequency read. This means that you can read or write to the HF User Memory even when reading the tag with a UHF RFID reader.
The ability to access the entire tag's memory from any frequency read (HF, NFC, UHF) is a super convenient feature, especially when it comes to encoding. Instead of having to separately encode each memory bank by hand, dual frequency IC tags can be encoded via a UHF RFID Printer, just like a standard UHF inlay. Dual Frequency IC tags can also be encoded via Sato's HF/NFC Printer, but it can be a little slower than a comparable UHF RFID printer due to limitations in encoding speed for HF/NFC tags.
What is the Cost of Using a Dual Frequency Chip?
According to Confidex, users can expect to pay about 10% more than a typical HF RFID tag and about 30% more than a typical UHF RFID tag. This is because in general UHF RFID tags are less expensive than HF RFID tags. Because of the cost difference, Dual Frequency IC Tags are slightly more cost feasible for companies that want to add UHF to an existing HF application versus the other way around.
Why Use a Dual Frequency IC Tag?
Dual frequency RFID chips are used most often to enable two different RFID applications with one single RFID tag. One example of this is placing a dual frequency tag on a retail item and using the UHF portion for loss prevention or inventory management, and using the NFC portion for marketing or authentication purposes. This way, instead of purchasing and placing two different RFID tags on an item, a manufacturer could save money and time by placing one RFID tag on each item that could enable both applications.
In addition, there are some legacy HF RFID systems that have all the hardware setup for HF (ISO 15693) but are starting to need more read range than HF can provide. For instance, a container identification application within a facility that currently uses HF RFID, is wanting to implement UHF for container loss prevention. If this company used a Dual Frequency IC tag, they wouldn't have to change their hardware for the current application, but instead simply add a few handheld UHF RFID readers in order to locate these containers within the facility.
The application that the dual frequency IC is used for mostly depends on the UHF tag antenna and/or tag form factor that the IC is placed within. Below are few different examples.
Dual Frequency Tags (with Dual Frequency ICs)
Confidex's Carrier Dual™ (EM4425)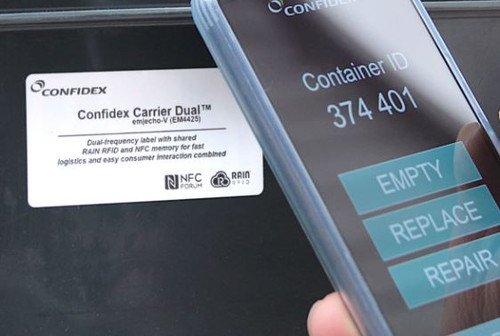 Confidex announced its new dual frequency RFID tag based on the Confidex Carrier with EM Microelectronic's EM4425. The Confidex Carrier Dual was made specifically for Returnable Transit Items, or RTIs, but will also work well with the following RFID applications:
Product Authentication (NFC)
Smart Packaging (NFC)
Returnable Transit Items (RTI) (UHF)
Supply Chain Management (UHF)
Logistics (UHF)
Retail (UHF)
See the Confidex Carrier Dual™ official press release here.
> Checkout the Confidex Carrier Dual™ Here
Smartrac's Web Dual Frequency RFID Wet Inlay (EM4425)
also called Avery Dennison's Web DF EM4425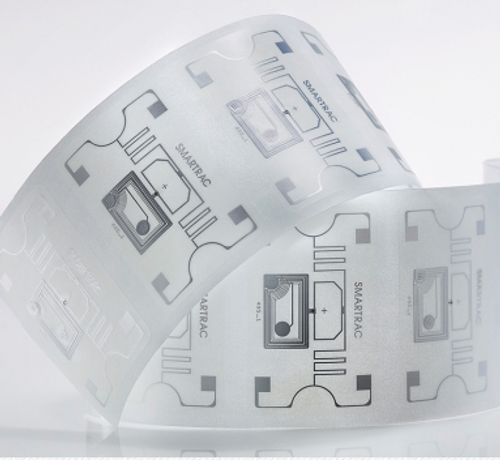 Smartrac's Web Dual Frequency RFID Tag was one of the first wet inlays created with a dual frequency IC. This wet inlay was created with EM Microelectronic's EM4425 chip and the typical Smartrac Web UHF RFID tag antenna. This RFID tag is typically used for the following applications:
Loyalty Programs (NFC)
Media & Advertising (NFC)
Product Authentication (NFC)
Inventory Management (UHF)
Supply Chain Management (UHF)
Retail (UHF)
> Checkout the Smartrac Web Dual Frequency Here
EM4425
Additional RFID tags available with the EM4425 include the following - click on the links to learn more about each dual frequency RFID tag via each product's official datasheet.
To learn about EM Microelectronic's EM4425 dual frequency RFID chip - click on the link below to jump to the official datasheet.
Conclusion
A special thank you to Confidex for providing additional information for this article. For more information about Dual Frequency IC tags or Dual Inlay tags, comment below or contact us.