A Productive & Prosperous Pairing - Tracking Wine, Beer, & Spirits with RFID (Part 2)
Posted by Suzanne Smiley on Apr 09, 2021
This is a two-part article that touches on the many ways that RFID is used to identify and manage wine, beer, and spirits. Part one discusses specifically using UHF RFID to track and manage alcohol, while part two discusses using HF/NFC RFID for anti-counterfeiting and identification purposes.
Authentication
High Value Wines & Liquors, Anti-Counterfeiting Measures.
Similar to most retail products, the alcohol, wine, and beer industries have an ever-growing problem dealing with counterfeit products. Because alcohol is consumed, the danger of purchasing counterfeit food & beverages can be much greater than simply being ripped off - but where are these counterfeit wines and liquors coming from, and how can you protect yourself?
Counterfeit merchandise can emerge in virtually any aspect of the supply chain. If there is any opportunity to switch out high-value wines and liquors by the pallet, case, or even by the bottle - it can and has been done. UHF RFID can help manufacturers and retail stores verify shipments are authentic when they arrive at a destination, but HF/NFC RFID can give buyers the ultimate peace of mind. To learn more about ways UHF RFID can help against counterfeiting and product diversion - read our article "Product Diversion: How to Protect Your Brand with RFID."
NFC RFID tags are low-cost, can be used with NFC-enabled smartphones like Android, and iOS (iPhone 7 and up), and can function as an authentication guarantee for products.
Below are two examples of manufacturers using NFC for authentication in the spirits and wine industries.
Seppeltsfield Barossa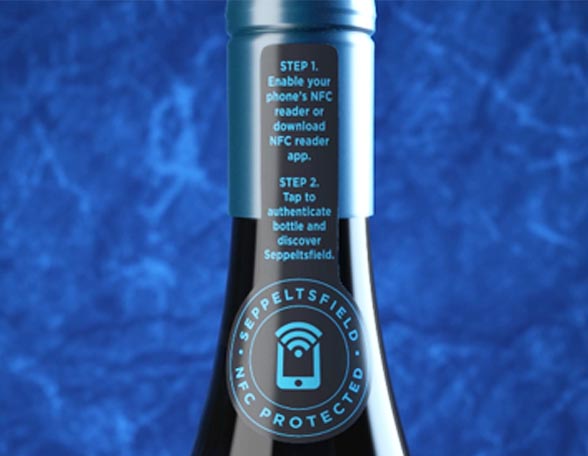 Australian wine company Seppeltsfield Barossa added NFC RFID tags to a few of their wines in 2019 in order to verify the bottles were authentic and unopened. Together with a software provider, Seppeltsfield Barossa added customized NFC tags to their wine bottles that can be tapped and read with an NFC-enabled smartphone. When tapped, the NFC tag launches a browser window that authenticates the wine bottle and provides a "360-degree experience" for the purchaser, including a "tour of the internationally renowned Seppeltsfield Barossa Village and surrounding vineyards". *1
Vigneti Massa - 2018 Vintage Derthona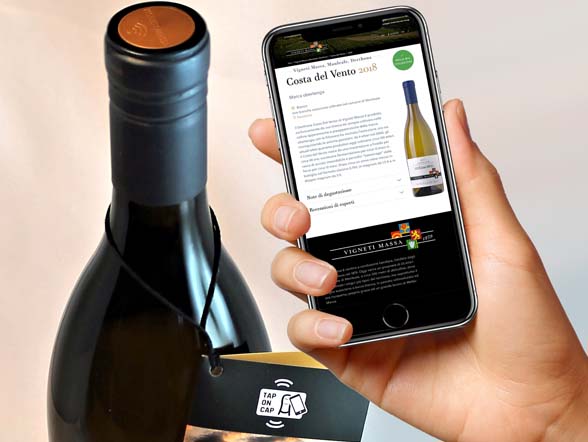 A Piedmont-based vineyard in Italy has embedded NFC RFID tags in each bottle's aluminum cap in order to allow purchasers to uniquely identify and authenticate each wine bottle. With the help of a software developer that provided a solution using NFC tags and 'a blockchain-based registry', the family-run vineyard is working to protect themselves from the ever-growing counterfeit industry. Wine purchasers can simply tap their NFC-enabled phones to the cap to ensure the bottle is authentic, and then engage and connect with the brand via a digital experience. Another feature created within this NFC-based system is the addition of a 'virtual cellar' that 'allows consumers to add their wine bottle along with tasting notes, reviews, and vineyard information. *2
Identification
Alcohol Tap & Pour Cards in Bars using HF/NFC RFID.
With the evolution of the COVID-19 pandemic, self-serve food and beverage stations are more important than ever, especially self-serve wine, beer, and spirits. In 2021, Self-Serve Taprooms and wall mounted dispensers became a common site in virtually all major cities, and this self-serve feature is made possible with HF/NFC RFID. The rise in popularity of the self-serve concept is often questioned because traditionally people went out to restaurants and establishments to be served, not to serve themselves. Below is a quick rundown of why 'Self-Serve' alcohol locations are popping up across the world, and the push revolves around one word - millennials.
Why Target Millennials & How Do RFID-Enabled, Self-Service Taps Help?
Millennials are reshaping the bar, restaurant, and hospitality industry a little bit at a time. According to PourmyBeer, Millennials - defined as ages 23 - 38 in 2019:
Largest living adult generation, surpassing Baby Boomers (ages 55 - 73) & Generation X (ages 39 to 54) - according to the U.S. Census Bureau in 2019.*3
Spending power $200 billion a year.*5
Dine out, 5x or more per week (over 241 times per year *6) and frequent bars, at least once per week.*4
Now that we have idea of the size of the generation and their spending power, let's look at how RFID-enabled self-service taps can attract that target market.
"Millennial shoppers admit that they are willing to pay more for items that are popular or offer a unique experience." *5
According to a popular food industry blog - "On the Line", states "This generation places a particular emphasis on accessible, innovative tech that streamlines the dining experience, so if you're investing in restaurant technology that makes dining with you easy and fun, your millennial guests will share that experience with others."
According to "Small Business", Self-Serve Taps meet 6 of the "10 Millennial Restaurant Dining Trends" if local brews are on tap. *7
How Do Self-Service Taps Work?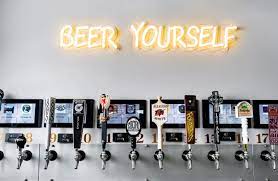 NFC or RFID cards are given to patrons when they open their tab and receive their glass. Before these RFID cards are handed to patrons, first the employee reads the tag with an RFID reader or NFC-enabled smartphone, and then associates the patron's information with that tag's specific ID.
PourmyBeer, a company that has created one of the first Self-Serve Beer Systems, explains how the RFID card interacts with the Beer tap -
"Microchips carry information, and they can transfer that data to another source. PourMyBeer takes Radio-Frequency enabled microchips (RFID) and integrates it with a card. Then, the chip gets the necessary information, and the self-serve tap recognizes it. The encrypted data relays back from the machine to the card, completing the cycle.
Once the machine has sensed the chip, it allows the customer to pour their drink while deducting an amount from their chip's data. The patron only needs to touch the device, pairing the chip to the sensor on the machine and bingo — beer time.
This simple marriage of data not only functions as the backbone of how our machines work, but it also proactively enables establishments to monitor their customers' drinking. "
These self-service systems are simply providing users a way to identify themselves to the machines and associate each pour with a bar tab/credit card. Cards like the one below, are tapped, read, associated (via software) with a bar tab or patron ID, and then used to access whichever beer or wine they are interested in.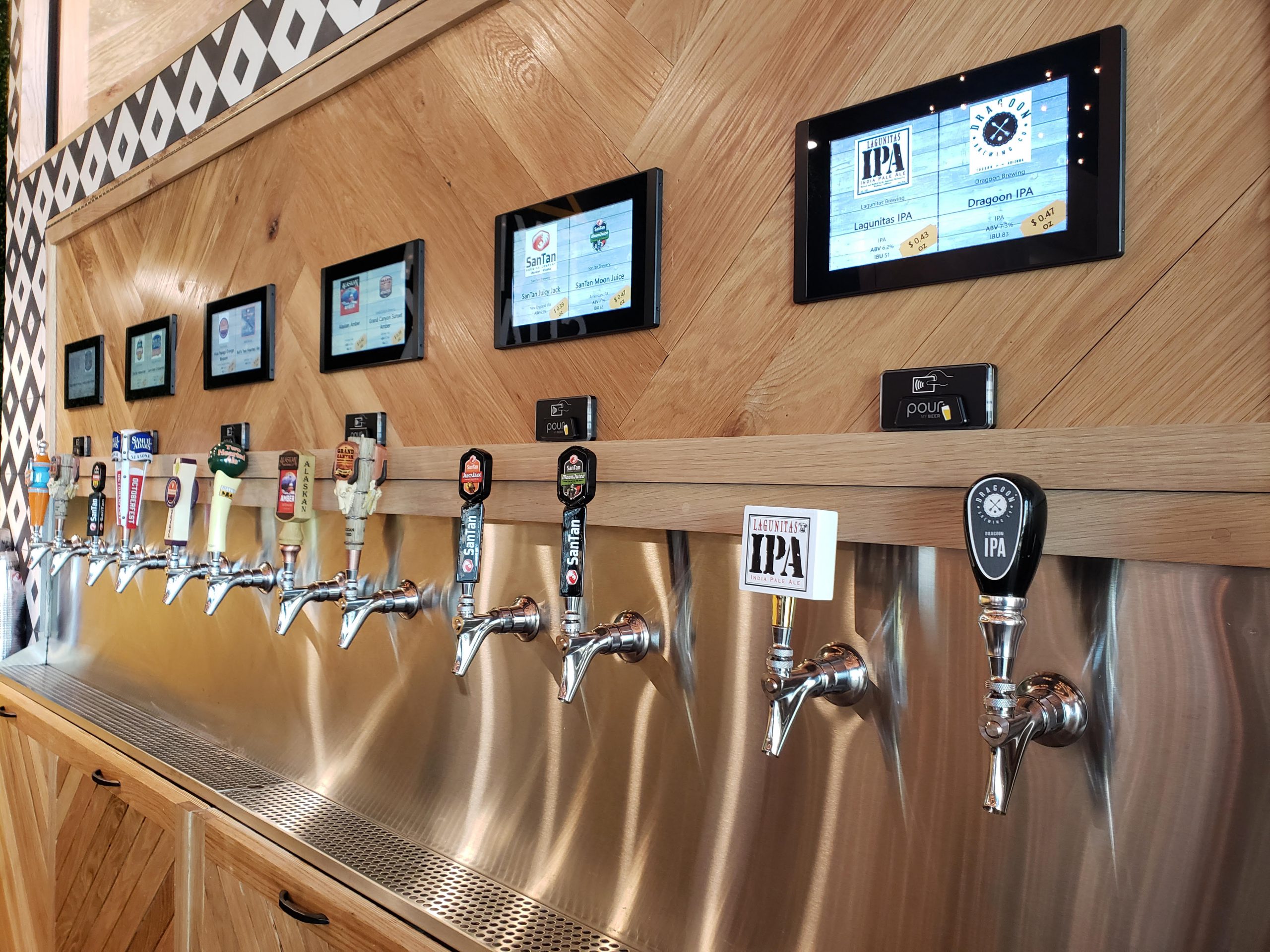 Conclusion
For more information on RFID or any questions - comment below or contact us.
To learn more about NFC/HF RFID, checkout the links below!
References:
*1 - https://www.nfcw.com/2019/06/26/363340/seppeltsfi...
*2 - https://www.nfcw.com/2020/01/28/365570/piedmont-v...
*3 - https://www.pewresearch.org/fact-tank/2020/04/28/...
*4 - https://www.fsrmagazine.com/expert-insights/your-...
*5 - https://khoros.com/blog/millennial-buying-habits#...
*6 - https://pos.toasttab.com/blog/on-the-line/marketi...