GPS & Active RFID: What Are The Top Differences?
Posted by Suzanne Smiley on 11th Jan 2016
Introduction
While active RFID and GPS are similar in some ways, the technologies also greatly differ. Additionally, active RFID and GPS can be combined to create unique systems.
Active RFID
Active UHF RFID technology is different from other types of RFID because it uses a battery as an internal power source. This type of RFID technology operates on the UHF band on the RF spectrum usually at or around 433 MHz or 900 MHz. Active RFID systems have a typical read range of over 100 meters and are used in applications such as remote monitoring, IT asset management, and auto manufacturing.
Active RFID tags send 'beacons' or signals to a reader at predetermined time intervals, which are dependent on the exact frequency and programming of the tag (usually every 3 – 5 seconds). These tags can store large amounts of data and are available in specific formats for rugged applications.
GPS
Global Positioning System (GPS) is a U.S. owned technology that helps locate and track GPS-enabled devices and tags by using satellites. According to the U.S. government, all satellites fall into three segments: the space segment, the control segment, and the user segment. The user segment controls satellites used for signaling GPS receivers and other satellites for 3D positioning.
From space, GPS satellites broadcast their exact location, status, and time, and the signal is picked up by GPS devices on Earth. The exact time that the device receives the signal is documented and used to calculate the distance between the GPS device and the satellite.
The GPS device on Earth picks up at least four different satellite signals, calculates its distance from each one, and then uses an algorithm to determine its exact location.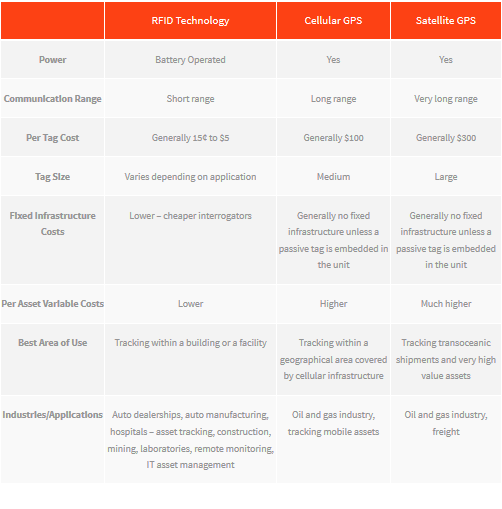 GPS vs. Active RFID
Combining GPS & Active RFID
Many times when people think of GPS technology, they typically think of the GPS devices in their cars or phones. However, asset tracking with GPS technology is becoming much more prevalent. GPS tags or receivers are now available for applications including and similar to large asset tracking of cargo, shipping containers, or machinery.
Active RFID cannot provide the extreme read range that GPS tags can provide, but it works well for applications that involve tracking items in a fixed area such as a laydown yard or across multiple warehouses.
GPS and RFID technologies have been combined in the past. Together these two technologies allow companies the enhanced visibility that comes from GPS as well as the specific identification techniques that come from RFID. In order to track assets, both technologies require software to produce expected results. To see the two technologies compared side by side, reference the chart above.
Active RFID tags with embedded GPS receivers can provide GPS location coordinates as part of their normal beacon payload. This tag type can either be read through an active RFID reader or through a beacon directly to a satellite. The signals can then be received by a satellite base station where a software application can query to obtain the location information.
Conclusion
For more information on GPS or Active RFID technology, please comment below or contact us.
If you would like to learn more about all things RFID, check out our website or our YouTube channel.
---
To learn more about RFID basics, check out the links below!
Sources
How GPS Works. https://www.gps.gov/multimedia/poster/poster-web.p...