Hospital Inventory Control with UHF RFID
Posted by Shain Armstrong on 24th Feb 2012
What if Your Goods Could Talk?
RFID technology offers great potential to significantly reduce costs while improving materials management and inventory operations throughout hospitals and other healthcare facilities. RFID-based solutions help hospitals answer the most fundamental questions of knowing who and where its patients and resources are. With this data, hospitals can enhance a number of processes related to asset management, patient tracking and throughput, inventory control, and patient-centric services.
Passive RFID-based inventory control solutions provide real-time data on inventory availability and use as items move from storage to individual departments and ultimately to the clinicians and patients who use them. This accurate management of the hospital supply chain – from scheduling through discharge – is essential to improving workflow and charge capture.
Helping to drive these efficiencies into the healthcare market, Goods That Talk (GTT), located in southern Brazil has developed innovative UHF RFID-based solutions, serving the entire hospital service chain including hospitals, clinical offices, distributors and manufacturers.
Included under the umbrella of GTT's GTmed solutions, GT Cabinets integrate ThingMagic UHF RFID readers to improve the management of implantable medical devices and drugs needed during surgical procedures.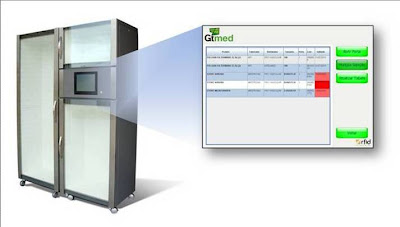 The time between consumption and invoicing and the rigorous need for safety and coordination of the stock of these items makes product monitoring difficult. By tagging each of these items with RFID-EPC Gen 2 tags and reading the inventory in real-time with UHF RFID readers integrated into the cabinets (see smart shelving), hospitals can automate the management of intermediary stocks, minimize safety stock holdings, and create a proactive system of replenishment that streamlines the entire supply chain.
In an era where healthcare costs are increasing at the same time that hospital profitability is decreasing, hospital administrators are challenged with finding new ways to run their organizations more efficiently. These solutions are just a few examples of how low cost, easy to deploy passive UHF RFID provide hospitals with an economical way to measure a large number of parameters in hospital settings, streamline workflows, and introduce efficiencies and cost savings across the entire healthcare supply chain.
Conclusion
If you would like to learn more about all things RFID, check out our website, our YouTube channel, comment below, or contact us.
---
To read about more healthcare applications, check out the links below!