Fast Tracking: Measuring Advanced Sports Analytics With RFID
Posted by Laurie Wiegler on Apr 18, 2014
RFID is helping sports management make informed decisions
Back when this reporter was young, she used to watch family members play soccer in Pleasanton, California. In those halcyon days of the mid-seventies, no one would have foreseen that three decades later, soccer - and all sports – would be redefined by the technology that tracks its players.
Looking back, a pickup game in the 'burbs or a mom-and-pop soccer club might not be a fit for RFID, but then again, maybe it would. After all, what's more competitive than amateur sports? Did anyone watch the recently ended NCAA championships?
Sports in America is obviously the ideal market for RFID vendors seeking to tap not only an interesting segment of the industry, but a niche very much in motion, just like that soccer ball.
Professional Advantage
A professional soccer team – or "football" team, as it would be called in most parts of the world – can now gain a distinct advantage by outfitting players with tracking devices.
Jill Stelfox, VP and General Manager, Location Solutions with Zebra Technologies, told RFIDinsider that the Shanghai Women's Soccer Team taps Zebra's MotionWorks Sports Solution to track stats enabling management to not only assess how well a player's performing on the field, but whether she should still be in the game and other criteria.
Zebra has clients across a broad spectrum of industries generally, but even in sports, its hand is seemingly everywhere, from hockey to football to soccer.
Stelfox explains the company's four-tiered approach: "First, for broadcasters. Imagine being in front of the TV and knowing the speed of a player while they're running... In soccer, how fast are they running toward the goal?"
She says managers see stats about a collision between two players, for example, analyzing data that takes in a woman's weight or mass and thus, velocity, so it's possible to detect how fast she's running. It's like what one sees in an instant replay, but in real time, Stelfox says.
"And secondly, for coaching, imagine as a coach you are going to run an 'Omaha 37', and for that play you have a certain percentage of players who must run in that way – whether basketball, football or soccer. Those plays are generated digitally. And now, in real time you can have the digital reality of what was run."
If a coach calls a certain play and the team member didn't run it right, feedback is offered – all information determined by a tag affixed to each shoulder of the player.
"There are a lot of studies around athletic performance and feedback…the sooner one is given feedback for an action, getting a reaction, the faster one will improve," Stelfox says.
Training and Safety
Thirdly, MotionWorks is used for training and fitness, informing bosses as to how well a player is performing today versus yesterday. "Sometimes, as parents we say, 'Is your head in the game?' That can translate [into effects] in the game," says Stelfox. This means after an injury, for example, coaches and managers can gauge how long it's taking a player to recover.
And finally, the technology is used for safety. "Let's say you come off an injury and prior to your injury, you were able to run at this speed and participate in this many plays. You run a practice in this certain way, and you are back but not quite up to speed," Stelfox says, conceding that while Zebra staff are not doctors of course, they do obtain data that looks at how concussions, for example, affect players.
"Obviously one big hit can cause a concussion, but a lot of little ones can, too. All of this comes across in the data," she says.
Tracking and Analyzing
All of this data is read by Zebra readers, with 12 to 20 receivers placed throughout the stadium. The tags themselves are so durable, Stelfox claims, that they can withstand all types of weather, and have proven themselves indestructible (at least to date) even in a heated football tackle or tussle on the soccer field.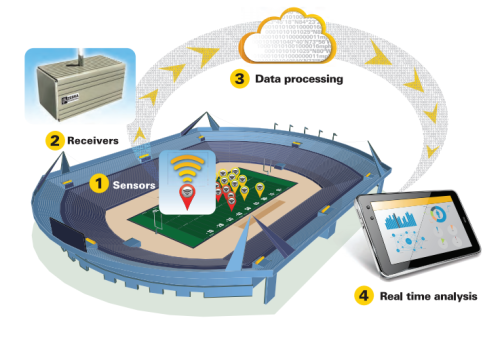 The Shanghai Soccer Management Center, for example, reliably receives tracking information from Zebra MotionWorks, including heart rate, distance and speed — all in real time, more or less. Stelfox says tags "blink 25 times per second". This translates from "when a movement happens on the field to when data travels over the air to [a] receiver, [on] through the network to the computer, [which is]… about half a second."
She says the data is run through an algorithm that provides the team with a more thorough understanding of each player's abilities. The tags, or sensors, that players wear can measure constant movement during the game, allowing coaches to cull and analyze performance data.
While Zebra touts that all of this allows for "game-changing decisions," the question is begged: does the data help owners decide whom to keep and whom to fire?
She says, "I guess I don't know, but I would say they are definitely using player tracking information to improve health and safety, which means sometimes players don't come back in the game as soon as they [want to]. Especially in football." Stelfox knows whereof she speaks since Zebra boasts two NFL teams among its clients.
"I remember being a soccer player myself. I would play hurt because I wanted my team to win, and I wanted to be a part of that," Steflox says. "That's just who you are [as an athlete.]"
Conclusion
If you would like to learn more about all things RFID, check out our website, our YouTube channel, comment below, or contact us.
---
To read about more real world RFID applications, check out the links below!