BarTender Software: Your Top 22 Questions, Answered
Posted by Suzanne Smiley on 29th Jan 2021
With Seagull Scientific's release of the 2021 BarTender Software with a new licensing structure – it's a great time to look through BarTender Software and answer some popular questions about the long-standing labeling software.
1. What is BarTender Software?
BarTender Software is a label design software that makes it easy to design, create, and print labels with images, text, barcodes, RFID tags.
2. Why is BarTender Software so popular?
BarTender is great for printing barcodes and smart labels because instead of just printing copies of one label after another, it can dynamically change the barcode/text/RFID encoding based on an excel or csv file. This means that you can design one perfect label, and then tell the software to change the text/barcode/RFID encoding on each label according to an uploaded file or database, instead of creating a new label for each unique label.
In addition, this software is one of a very limited number of software products that can be used with RFID printers. If a company does not use Bartender or a similar design software, custom printer APIs or commands will need to be used to achieve the same results, often at the expense of time and resources.
3. Is BarTender Software strictly an RFID software?
No, BarTender is a labeling software that primarily designs and prints text, images, and barcodes, but also includes the capabilities to encode RFID tags via an RFID printer. If your company does not use RFID labels, or smart labels, you can still use BarTender.
4. Which printers does BarTender work with?
BarTender Software currently supports over 6,500 printers, and works with non-RFID printer brands like Toshiba, Canon, and IBM as well as RFID-enabled printers. A full list of supported printers is available here, and can be searched by printer manufacturer and model.
5. Which RFID printers does BarTender work with?
BarTender works with a variety of different RFID printer manufacturers and provides drivers for many popular printer models. Below are the most popular manufacturers of RFID printers that work with BarTender:
To see if your exact printer model is on the list – click here and search via manufacturer and model.
6. Which RFID frequencies can BarTender Software encode?
Currently, BarTender Software can encode only UHF RFID tags.
7. Which RFID tag types can you use with BarTender Software?
BarTender's RFID encoding supports most EPCglobal Gen2 tags and EPCIS, including:
EPC Gen 2 (ISO 18000-6C)
ISO 15693
ISO 18000-6B
EPC Class 1
Tag-It
I-CODE
TagSys
My-d and Picotag.
8. Which RFID encoding schemes does BarTender support and even make easier for my company?
A few different encoding schemes (also called identification schemes) are available for use in certain industries or for certain companies. BarTender has a few supported encoding schemes in the list below, or you can create your own to comply with certain standards or regulations. Below are the available encoding schemes to choose from:
DoD
GDTI
GIAI
GID
GRAI
GSR
SGLN
SGTIN
SSCC
SGLN
9. What are the system compatibility requirements for BarTender Software?
BarTender's System Requirements are as follows:
Operating System – Windows 10, Windows Server 2019 and 2016, an active internet connection is Windows updates are required
Memory – 4 GB RAM, 20 GB Hard Drive (32-bit); 8 GB RAM, 20 GB Hard Drive (64-bit)
Display Resolution – Minimum or 1024 x 768
.NET Framework - .NET Framework 4.7.2 or later version
Database – BarTender System Database, Librarian, History Explorer, and Reprint Console will require Microsoft SQL Server 2005 or higher
10. How does BarTender licensing work?
BarTender Software licensing can be complicated because there are four types of licenses available, and two of them are required in order to use the software: an application license and a printer license.
A BarTender Application license is basically a license that enables multiple users to use the application from any networked PC. (example: Professional Application License)
A BarTender Printer license is what it seems – a license per printer. Each printer that will print labels created in BarTender will need a unique printer license. (example: Professional Printer License)
A BarTender Support and Maintenance License is basically a support and maintenance agreement that covers one of your licenses for 1-3 years. These licenses are important for fast support and diagnosis' which is key if you run into a problem. BarTender has two different Support and Maintenance Licenses – one that covers an Application License, and another that covers an individual Printer License. (example: Professional Support Application License, Professional Support Printer License)
11. Why purchase BarTender Standard Maintenance and Support?
BarTender Standard Maintenance and Support Licenses should be purchased for each Application License and Printer License. A Support and Maintenance License is a low-cost way to receive guaranteed and fast software support, such as:
Guaranteed first reply time response within 1 business days.
Access to well-trained, experienced, and friendly support agents around the world.
Product activation assistance.
Assistance with installation and configuration questions.
Issue diagnosis and support.
Post-sales support on software capabilities and features.
In addition to support, if your company has Standard Maintenance and Support Licenses, they can upgrade to newer versions of BarTender Software at any time and receive all the new features.
12. Can you upgrade your BarTender Software?
Yes, there are three main ways to upgrade your BarTender Software:
Upgrade the Version: If you would like to upgrade the version, for example from 2019 to 2021, and you have a current software maintenance agreement in place, you can simply download the new 2021 edition here.
Upgrade the Edition: If you would like to upgrade the edition, for example from BarTender 2016 Professional to BarTender 2016 Automation, that requires a custom quote, but can be done by contacting us. The same is true if you would like to upgrade from BarTender 2016 Professional to BarTender 2021 Automation.
Upgrade the Number of Printers: If you would like to upgrade the number of printers, for example from 3 printers to 7 printers, you can simply purchase additional printer licenses. However, if you are using BarTender 2016 Automation, you will have to contact us for a custom quote because the 2016 Automation version cannot accommodate incremental additions.
13. What's new in the 2021 BarTender Software release?
Create and print more commercial-quality designs with new templates and features like a new Color Picker, Phrase Library, and Auto Translate features.
Accelerate label design and production with increased label Quality Assurance.
Review, approve, and enable intuitive, configurable workflows from any web browser on any device anywhere, anytime.
Better, and additional integration options, with more flexibility for existing and new business systems.
Remote label printing - print from any browser on any device to more printers anywhere, anytime.
Improved business continuity and disaster recovery with server redundancy options.
Minimize downtime and enable business continuity with advanced, always on high availability options.
14. What is the difference in the BarTender Editions?
The Starter Edition is new to the 2021 rollout, but initially the Professional Edition was for creating labels, the Automation Edition was for creating and automating, and the Enterprise Edition was for creating, automating, and managing all labels. This easy-to-use infographic shows the different features that are available with each of the different editions.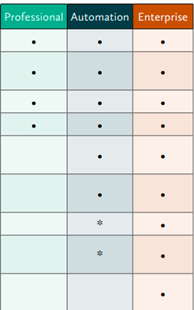 Click to see the full-size version.
15. Can I try BarTender Software before I buy It?
Yes, one of the perks of BarTender Software is that you can try a 30-day free trial before purchasing. The BarTender Software download for the free trial is located below.
Free Trial – BarTender Software
16. What is the new Starter Edition of BarTender?
The new Starter Edition of BarTender Software is a cost-effective edition for small businesses that allows for the same basic labeling abilities as previous versions, only without the RFID encoding ability.
17. Which Barcode Symbologies does BarTender support?
Over 100 Barcode Symbologies are supported, most commonly used barcodes are Code 39, Code 128, Data Matrix, and QR.
18. How many versions of BarTender are available?
There are currently three versions of BarTender that are still supported – BarTender 2016, BarTender 2019, and BarTender 2021.
19. How long is each version of BarTender supported?
Each version of BarTender is supported for exactly 4 years after the next version is released. For example, the 2016 version will be supported until 4 years after the 2019 version (the next version) was released – 2023.
BarTender 2016 Version – released 11/11/15, supported until 4/8/2023
BarTender 2019 Version – released 4/8/2019, supported until 11/2/2024
BarTender 2021 Version – released 11/2/2020, supported until TBD
20. What Business Systems can BarTender Integrate with?
BarTender can integrate with a few different types and specific business systems such as - WMS and ERPs, including Oracle, SAP, IBM Websphere, Sage, Infor, HighJump, NetSuite, Epicor and Microsoft Dynamics.
21. Which Windows versions does BarTender work with? Does BarTender work on Mac or other non-Windows environments?
BarTender software works with the following Windows versions dependent on the version of BarTender being used:
BarTender Version

Desktop OS

Server OS

BarTender 2021

Windows 10

Server 2019

Server 2016

BarTender 2019

Windows 10*

Windows 8.1

Windows 8

Windows 7

Server 2019*

Server 2016

Server 2012 R2

Server 2012

Server 2008 R2

BarTender 2016

Windows 10*

Windows 8.1

Windows 8

Windows 7

Windows Vista

Server 2019*

Server 2016

Server 2012 R2

Server 2012

Server 2008 R2

Server 2008
*It is recommended that you install the latest release of your version of BarTender for running on this OS version.
BarTender software only works on Windows operating systems only.
22. Which image files are supported in BarTender?
Because BarTender is a labeling software, many companies choose to have their logos or other image files present on each label. There are hundreds of types of image files, but BarTender supports a large quantity for both importing and exporting. The most popular image files are supported like - .gif, .img, .jpg, .png, .psd, .rtf, .wpg, .xwd and more.
To see the full list, click here – remember, not all image files are supported for both importing and exporting.
Conclusion
To learn more about all things RFID, check out our website, our YouTube channel, our resources page, or contact us.
---
Do you have a question about BarTender Software? Comment below with any BarTender Software question and we will work on getting you an answer as soon as possible!