5 Ways I Can Use NFC in My Business
Posted by Suzanne Smiley on 14th Sep 2022
NFC, or Near-Field Communication, is a short-range RFID technology that allows users to read compatible NFC tags simply with their smartphone. Because separate NFC tag readers are not required and NFC tags can cost as little as a few cents in higher quantities, the cost of implementing NFC is very low. Before jumping into using NFC in a business, here are the two most commonly asked questions about using NFC technology.
1. Will my employees and I be able to read NFC tags with our Smartphones?
Yes, if they have an iPhone 7 and above ( iOS 11+) or an Android phone with NFC capabilities, they will be able to read NFC tags.
2. Will my employees and I have to download an app in order to interact with NFC tags?
No. Newer iPhones beginning with the iPhone 7 and Android phones will be able to function as an NFC tag reader natively. The only reason you would need an NFC app is to program/write the data onto the NFC tags.
You can read more Frequently Asked Questions about NFC in our article - 29 NFC Q&A's.
5 Ways I Can Use NFC in My Business
1. Display a Schedule
If you've ever stood outside of a conference room door wondering how long the group in front of you will be in there, or taken a fuzzy picture of an event schedule on your phone to try to locate later, using an NFC tag might have been a better option. When knowing a schedule is important, like during conferences, events, or even in conference rooms, NFC tags can be implemented in order to allow users to digitally view the schedule. Instead of printing and posting a new schedule outside a conference room door or event space, simply publish the calendar online each week and program the URL to an NFC tag. There are two things to keep in mind when implementing:
1. Your calendar must be published to a URL
2. Ensure that you have an NFC tag with a medium to large memory.
Below I'll walk through the steps of doing this with a calendar in outlook.
Jump to the online version of outlook on Microsoft365.
Once you are in Outlook, go to Settings, and click "View all Settings"
Click on "Calendar".
Click on "Shared Calendars"
Go to "Publish a Calendar" and choose the calendar you want to publish and write to your NFC tag. You can also set the calendar permissions there as well.
Click "Publish"
Copy the HTML link and send it to your smartphone (NFC tag reader)
Open your NFC Tools (or NFC tag reader app)
Choose 'Write a URL' and paste your URL into the box
REMEMBER - if your URL contains "http://" and your app already has a pre-filled prefix of "http://" you will need to erase the one in your link so it doesn't repeat.
Then write the URL to your NFC tag.
2. Digital Business Cards
When you are at conference, business meeting, or even at a restaurant bar, you might not always have your business cards available when you need them. If you do have them on hand and exchange cards with someone, there's a high possibility that one of you will lose one of the cards before you are able to actually use it. NFC tags have the ability to act as digital business cards and store contact information that can be shared via a simple tap.
All you need to do is download a contact-friendly NFC tag writing app such as Business NFC ($1.99 in the App Store), tap the "Write NFC" option at the bottom of the screen, and fill it out resulting form with your information. Next simply write that information to your compatible NFC tag. It's important to note that in some apps, the Contact or Business Card option contains a lot of data for an NFC tag - usually above 200 bytes. The average number of bytes for an NFC tag is around 144, so you will need to make sure you buy an NFC tag that has over 200 bytes. If you want to find out the exact number of bytes you will need, jump into your chosen NFC app and act like you want to go ahead and write to an NFC tag. Before it allows you to write, it should show you the number of bytes required for the data - shown below.
Luckily, because of the way that the Business NFC app is setup, it does not require a large memory for this functionality - only around 34 bytes. This is because this app doesn't store the contact information on the actual tag, instead it generates a link and upon being read, opens the link on the smartphone which then pulls up a contact card. Here's the link to the Business NFC app on the App Store.
After you have encoded the NFC tag, place it somewhere that you will always have with you, such as inside your wallet, on the bottom of your cell phone case, or on your key ring.
Some businesses will offer services for creating an actual business card with an embedded NFC tag, which is a professional option as well. If you did want to invest in a business card/plastic card format, it can be kept like a credit card in your wallet and used when needed.
3. Provide Company-Wide Updates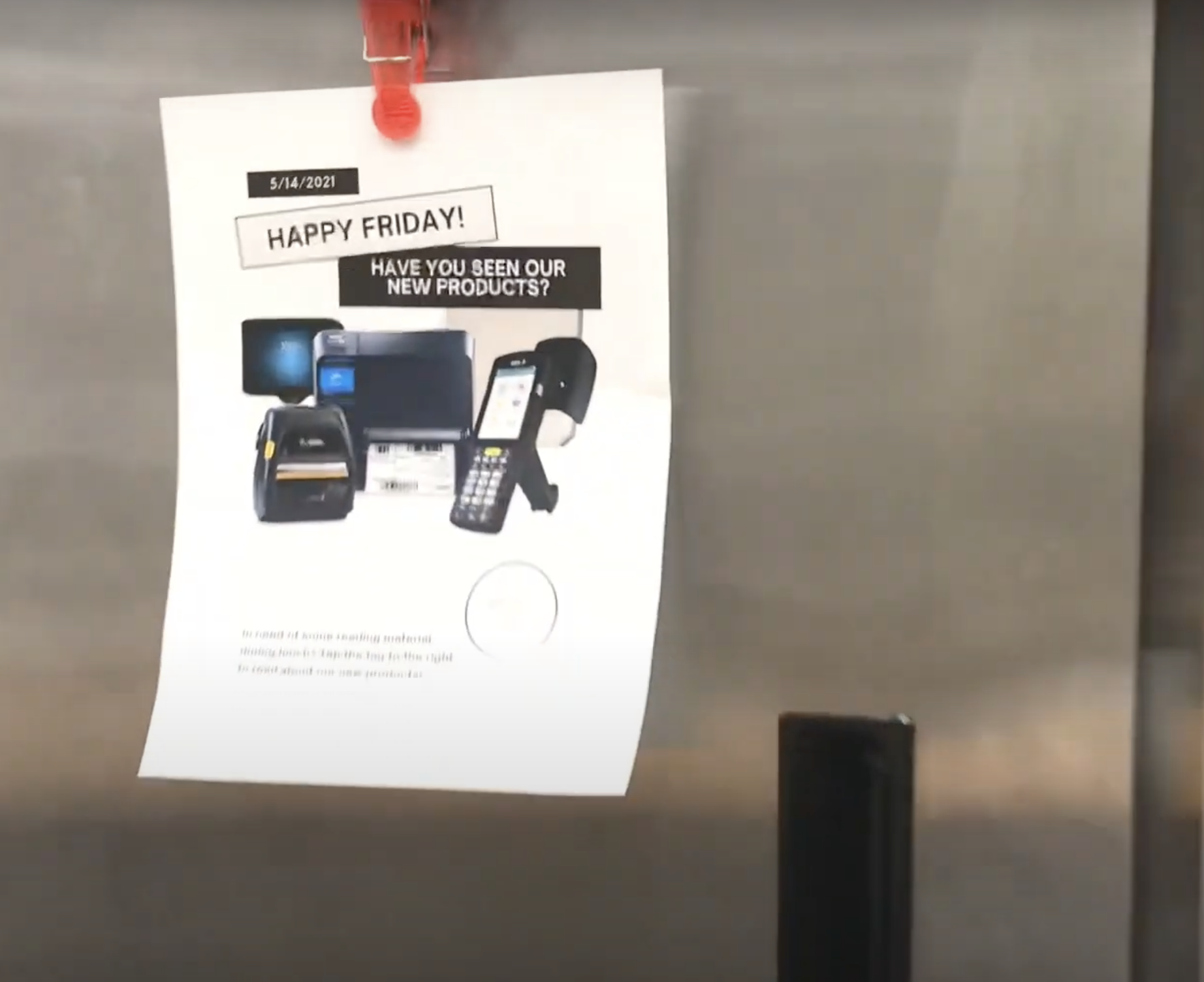 Watch our video - NFC TUTORIAL: How to Write a URL to an NFC Tag and Use It (in the office)
If your company has daily or weekly updates, an NFC tag in a specific location could be a good way to communicate those updates without filling up everyone's inbox. These days, every employee is susceptible to email overload, which can cause important emails to go overlooked. Most email overload is due to over communication in the workplace which can stem from "lack of clear and effective protocols" according to the Harvard Business Review. 1
Instead of contributing to that overload, an NFC tag can be placed in a central location that can be linked to a specific URL that is constantly updated with new, important information. This information could be items like:
New Product Updates
Product Out-of-Stocks
Policy Updates - I.e. A newly implemented PTO policy
Facility Issues - I.e. A sink is linking on the 3rd floor, please avoid using it until further notice.
New Employees Starting
Not only will implementing this new protocol help to prevent an important email from being overlooked, but also it provides a consistent, online platform for this information that can be easily updated and monitored. The URL on which this information is displayed can provide all updates on a particular topic, similar to an online bulletin board that employees can access via the NFC tag.
4. Customer Interaction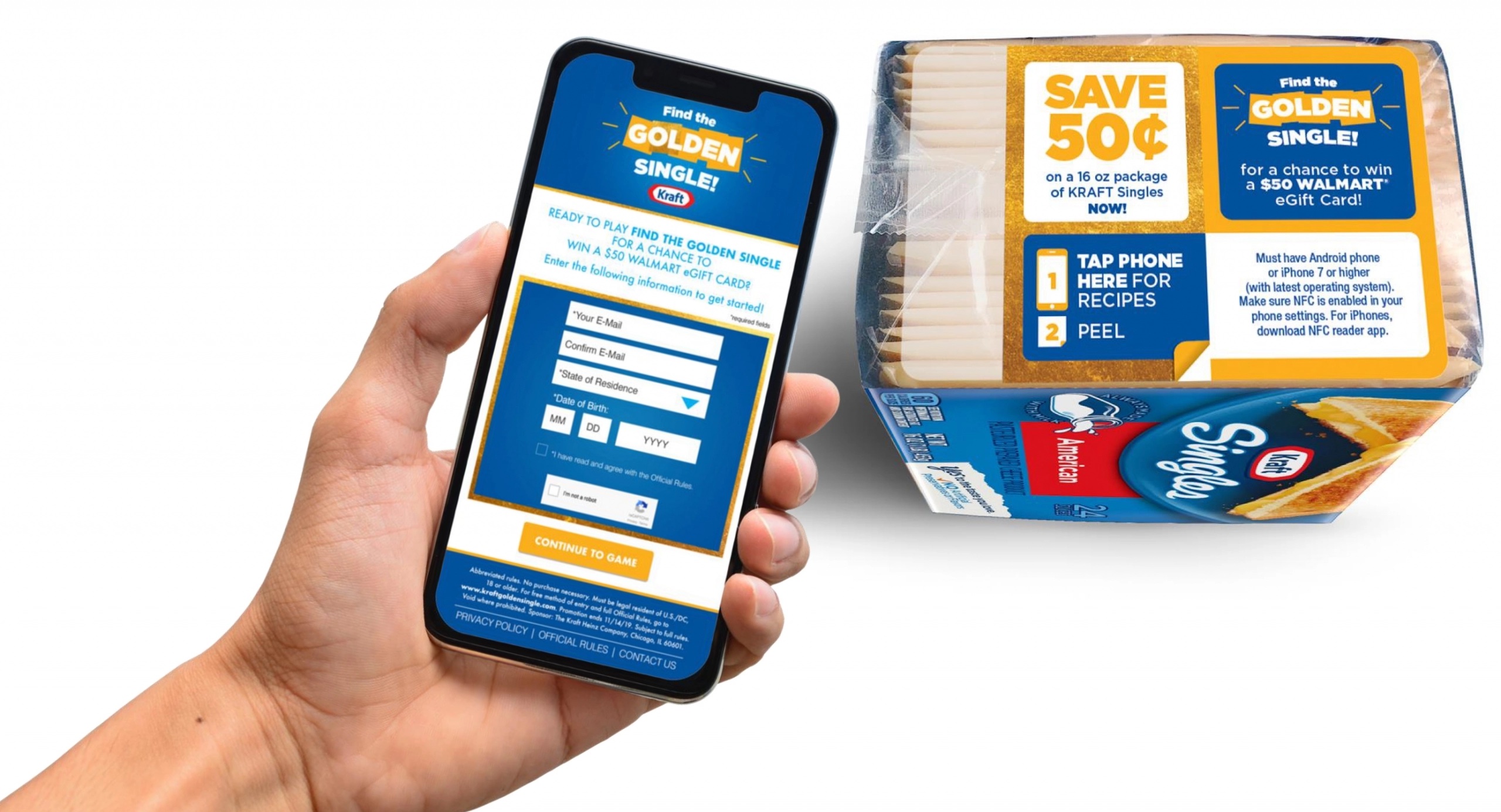 If you are a business that ships products/items to customers, an NFC tag is a great way to promote your business, advertise coupons, or even explain more about the product. An NFC tag can be placed in a variety of locations including a shipping insert, shipment packaging, or even on the product itself. Adding digital information can benefit a business in a few ways.
A customer taps the NFC tag on the product insert, which opens a webpage thanking the customer for their business and -
Shows the customer-related products
Provides the customer a discount on their next purchase
Asks them to provide a product review
Provides instructions on how to use the product
Opens a YouTube video with detailed instructions on assembling the product
Asks them to answer a quick customer survey
Because this information is all digital, businesses do not have to pick one from the list above. A business could provide all of the information on one URL, or have 6 different URLs and encode each NFC tag with the URL best suited for the purchased product or specific customer.
Some of these actions are not possible without a digital connection, and others are just not as efficient. NFC tags can provide a new level of customer interaction with a brand and/or product that's part of a worldwide push towards a new, general concept called "Smart Packaging".
5. Employee Engagement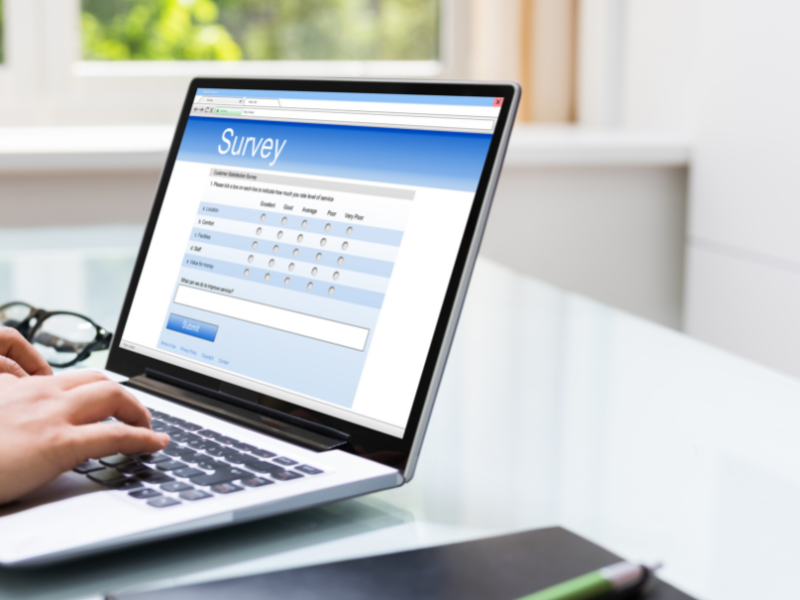 An NFC tag can link directly to a URL for a survey, such as Google Forms, SurveyMonkey, or other online form-fill tools. A business can use NFC tags in specific locations or during/after events to promote employee engagement and additionally gain real data from employees. A few examples of this could be:
A survey after the conclusion of a monthly/quarterly meeting to determine meeting successes and failures.
A year-end survey to learn general thoughts on employee satisfaction.
On a suggestion box so that suggestions could be entered and managed digitally.
To report a facility issue - i.e. A broken printer or missing cabling.
To sign up for a team building event or seminar.
Because online programs like Google Forms keep track of answers and efficiently organize the data, NFC tags can help businesses promote employee engagement at and when it is most beneficial to the company.
Conclusion
For more information about NFC, check out our additional resources below!
1 - Harvard Business Review. "Email Overload" - https://hbr.org/2012/02/stop-email-overload-1