Implementing a new technology takes careful thought and planning. This 10-Step checklist carefully outlines the major steps for determining if RFID is right for your application, and, if so, how to implement a solution.
---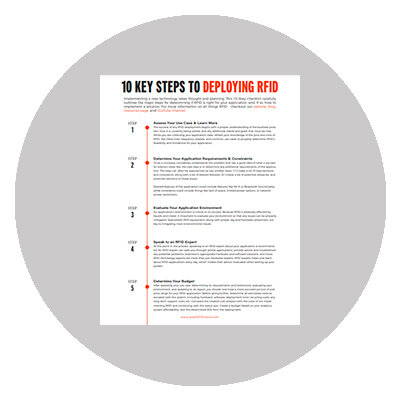 This 2-page PDF takes you on a quick walkthrough of the steps you should take when you are thinking about deploying an RFID system. Think of this as a shorter, bulleted outline of our play-by-play guide - Deploying an RFID System.
Why Download these Key Steps?
If you or your company is in the intial phase of researching RFID and how it can possibly solve your problems - download this outline first. If you would rather just jump right into our deploying guide, checkout the link above!
Simply type in your email address below and we will send you a PDF copy to read, print, and/or send to a fellow RFID enthusiast!
---
---
Learn More
About
Deploying RFID
---
---
---