Play Ball: Tracking Sports Memorabilia With RFID
Posted by Laurie Wiegler on 21st Mar 2014
RFID Moves Into The Big Leagues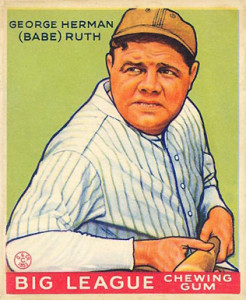 With sports personalities' signatures drawing a considerable penny, it's obvious that signed baseball and football trading cards, as well as the balls themselves, would want to be as protected as possible from theft.
Yet more than that, since sports memorabilia collectors are savvy, they also, more and more, want their high-priced purchases—be they a rare Babe Ruth trading card or a signed Willie Mays glove—to be traceable.
Further, such buyers are rightly concerned about authenticity of an item as well as keeping the item, once bought, in tact. NFC and RFID are becoming the preferred ways of tracking such items, from pawn shops to football stadiums.
Ensuring Integrity Of The Product
So what are the concerns when it comes to protecting an item from damage? What about the antennas, such as is the case with say, the "TAP" cards at LA's Metro Rail?
Michael Fein, senior product manager, RFID at Zebra Technologies, says this isn't where his concern lies.
"I wouldn't worry so much about damaged antennas – I would worry more about damaging the item. Especially cards. You never want to damage [the] card itself," he says.
Whereas a sticker, he says, is "tamper evident" – so if it's peeled off, it doesn't work anymore, and that's a different scenario.
But with an RFID item, including not only baseball cards and posters but shirts, balls and so forth, tags are either of the hanging variety or sewn in with a type of conductive thread.
How This Plays Out
For New York-based Scanbuy, which provides cloud-based mobile solutions, ensuring integrity of NFC and QR codes is an everyday way of doing business.
So when sports card and apparel maker Topps called upon them to wield their prowess for the 2013 MLB All-Star FanFest in New York last July, they were ready.
Topps wanted to engage consumers on their mobile devices, and in an innovative way that would enhance the collector's experience, says Mike Wehrs, CEO and President of Scanbuy.
"Topps placed ScanLife QR codes and NFC chips on giant, designated baseball cards featuring MLB All Stars such as David Wright, Mike Trout and Mariano Rivera around the FanFest center," Wehrs told RFIDinsider.
"Attendees then used their NFC-enabled or QR barcode scanner, like the ScanLife mobile app, to touch or scan any of the cards for a chance to win exclusive Topps prizes," he explains. Then there was both an "instant win", a daily prize and a grand prize offered.
He says that the company's ScanLife mobile engagement platform is "agnostic" and therefore allows for engaging with both QR and NFC. It is cloud-based and, he says, "enables brands and marketers to power intelligent connections between the physical and digital world via QR codes, NFC, Microsoft Tag and other mobile triggers."
At the FanFest event, that QR was engaged more often simply proves that there were just fewer NFC handsets available than could have been used or might have been needed.
Scanbuy did not distribute NFC-enabled baseball cards for this campaign, he says, and currently there aren't any other sporting events they can talk about at this time.
Who's Crying Foul
As companies such as Topps become increasingly savvy about consumers' needs for better tracking, so too do mobile phone shoppers hope to engage with products.
Drake LaDue, CEO of Brand-X-Mobile, was not at FanFest and wasn't privy to enjoying the scanable feature on the large cards. But after the event, he experienced some frustration when trying to scan something with a QR code he found online. He put his device up to the screen but nothing happened. He says this is wrong.
"People ….seem to think that scanning a QR code is just for print, and that's not true; and the top three or four places people scan is off the web or [off] another mobile," he says.
"If you have an opportunity for someone to look at something and you have an opportunity to have someone buy into your brand, the QR code is a great opportunity in our mobile society," he says.
Conclusion
To learn more about all things RFID, check out our website, our YouTube channel, our resources page, or contact us.
If you'd like to learn more about other real-world RFID applications, check out the links below!